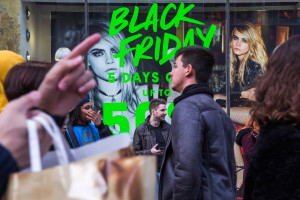 Finally the big day of Black Friday is here and while you have our shopping lists of the best bargains at the ready do not set of before taking a look at the list of opening times for the top discounting stores that we have put together.
The doors are opening early everywhere from Argos to Marks and Spencer so note these opening times down and get shopping before everyone else does tomorrow.
OPENING TIMES:
Aldi : 8am - 10pm - no change for the supermarket's opening hours
Apple: 9am - 9pm - The tech brand are not participating but there will no doubt
Argos: 6am - 10pm, another very busy one so go early and be ready to shop.
Asda: 7am some 24hr, not participating officially but there are still great deals to be had for Christmas.
BHS: from 06:00, for 50% off everything across the store.
Boots: 00:30 - midnight for Piccadilly and Oxford Street flagship, from 08:00 elsewhere.
Carphone Warehouse: 9:00 - 8:00 for phone and gadget discounts.
Currys/ PC World: open from 6:00, a big player in Black Friday, this will get busy.
Debenhams: from 08:00 for discounts across the store
Game: from 08:00 for hundreds of discounts on consoles, games and more.
Halfords: 08:00 - 20:00, the cycle store are running a huge range of discounts.
Harrods from 10:00, usual times for the store but discounts offered for Harrods card holders, register before you shop.
Harvey Nichols: from 10:00 to bag upto 50% off on certain styles.
House of Fraser: 8:00 to 22:00 for bargains across the store.
John Lewis: from 08:00 to find out how cheap the Nutribullet is going for this year.
Lidl 8:00 - 22:00, ith hundreds of their usual amazing discounts.
Marks and Spencer: 8:00 - 22:00 (larger stores) - Head down early to stock up on the discounted homeware and champagne.
Morrisons: from 06:00 - 22:00, the grocery store opens at 6am kicking off 5 days of Black Friday discounts.
New Look: 07:00 - 22:00 for larger stores, offering up to 50% discount.
Office: 9am - 21:00, 20% online and there will be even more discounts in-store
Sainsburys: from 06:00, go early to get the best of their in-store only Black Friday event.
Superdrug: 7am to 10pm or 8am to 7pm (check locally), upto 65% on certain ranges.
Tesco: from 05:00, 24hr stores will be closed between 00:00 and 05:00 for staff to prepare. Be ready and know what you're looking for.
Topshop: 7am - 23:00, flagship stores open early for upto 50& discounts.
Toys R Us: from 7am for thousands of reductions on toys and games.