A black widow wife who smashed her husband's head in with stone ornamental frog before mummifying his body in 41 layers of plastic got away with the "perfect murder," an inquest heard. Former cabaret singer Leigh Anne Sabine, who died last year, hit her "abusive" husband John with the ornament which made injuries similar to a hammer blow.
Her accountant husband, John, who was 67-years-old when he was last seen alive in 1997, was found "mummified" in layers of plastic, roofing felt, bin bags and shopping bags tied up and buried in a communal gardens at the rear of flats at Trem-y-Cwm, Beddau, near Pontypridd, on 24 November 2015.
His rotting corpse was found still in his Marks and Spencer pyjamas when friends of Mrs Sabine's began clearing her home 25 days after she died from brain cancer in 2015. During an inquest at Coroners Court Rock Grounds Aberdare, the court heard how Mrs Sabine had asked her neighbours to move the "medical Skelton" from a shed to her attic in the months before her death.
The court heard how she told friends that she would become "famous" after her death and even joked that she had used the frog to kill her husband. A post-mortem examination was carried out by forensic pathologist Dr Richard Jones who found the cause of death to be blunt force trauma to the head.
Dr Jones said, according to the Telegraph: "The frog had a projecting eye and hind leg. These features were lined up with the fractures. A single blow from this item could have accounted for all the skull fractures. They are severe injuries and can easily account for death.
"The frog weighed 1.1kg and was 14cm long. The shape of the frog matched the fractures."
He said: "The decomposed body was clad in Marks & Spencer pyjamas. It was relatively well-preserved because of a process known as "chemical mummification", which occurs in certain circumstances. It can persist for years or even centuries."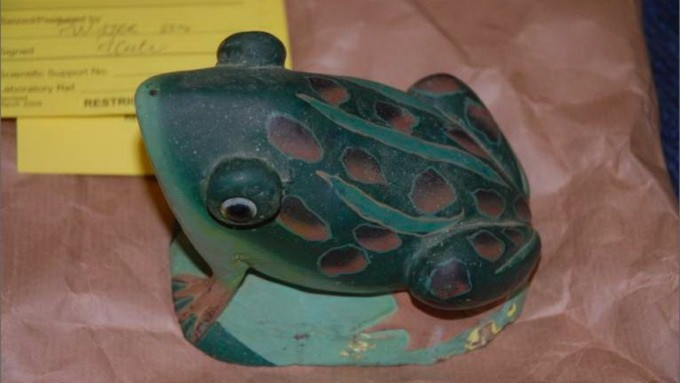 Police identified Mr Sabine by a hip replacement and his skull had several fractures and police say that she was the prime suspect in his disappearance. The grim discovery was made when "sludge" from the bag spilled onto her friends arms when then they cut the packaging.
Just a few months before she died she was said to have told her hairdresser, Bernadette Adamiec: "People are going to talk about me after I have gone. I could be famous." When asked why she said: "Because of the body in the bag."
South Wales Central Coroner Andrew Barkley recorded a verdict of "unlawful killing" and said it was "beyond doubt in my mind that foul play was the cause of his death".