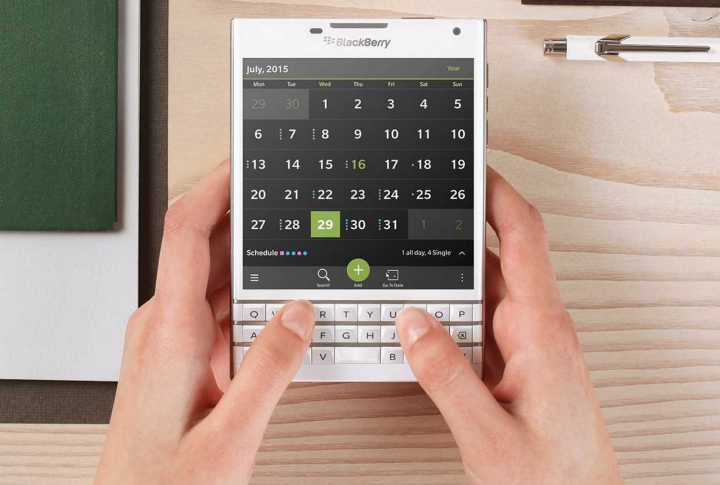 BlackBerry, the beleaguered mobile phone company which has been on the slide for the past three years, has launched the Passport smartphone featuring a unique square screen design.
The Passport, which has already been showcased several times by BlackBerry, was officially launched near the company's headquarters in Toronto. The device will stand out from all other mainstream smartphones due to its strange shape, with the phone's footprint being identical to a Canadian passport.
The device is focused directly at business users, and features an iconic BlackBerry physical keyboard beneath that oddly-shaped screen. This is an area where BlackBerry used to dominate but the company's share of the enterprise segment declined from 10% in the third quarter of 2013, to just 2.7% in the second quarter of 2014.
BlackBerry Passport - at a glance:

4.5in screen (1440 x 1440)
13 megapixel camera
2.2GHz Qualcomm Processor
3GB RAM; 32GB storage
3450mAh battery
Price: £529
Release Date: 24 September
BlackBerry CEO John Chen said the Passport was "squarely aimed at the 30% of smartphone users out there, who want long battery life and a very productive phone".
Screen, keyboard and personal assistant
The company believes the wider screen than seen in typical phones will allow users to see more content without having to zoom in and out, making it easier to edit documents on the move.
The inclusion of a physical keyboard also means that your screen is not obstructed by an onscreen keyboard again allowing you to see more details on screen.
The keyboard, as well as being a physical keyboard, is touch-enabled, meaning you can use swiping gestures seen on touch-based keyboards. BlackBerry says that tests have shown it is much more accurate than traditional keyboards.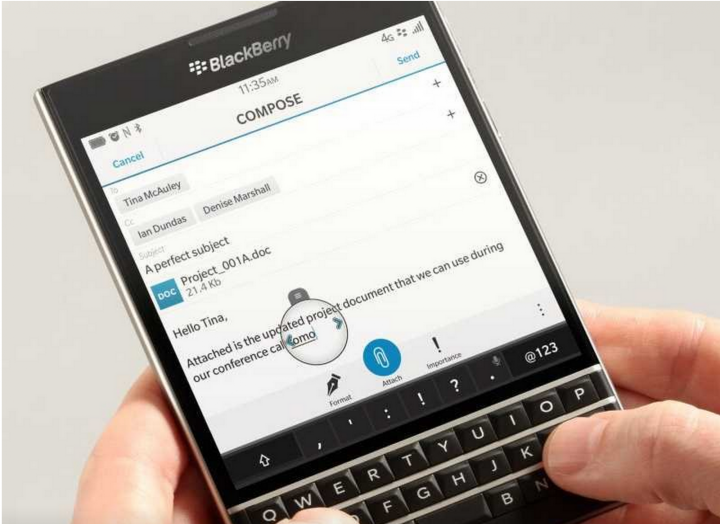 The Passport also features its own personal assistant, similar to Siri and Google Now seen on Apple and Android smartphones.
BlackBerry Assistant, included in the latest version of the BlackBerry 10 software, will allow you to interact with both work and personal information at the same time, something Siri and Google Now are unable to do in a work situation as typically business keeps work and personal information separate on Android and Apple devices.
As well as interacting with your voice, BlackBerry Assistant allows you to interact by typing if you are not in a position to speak out loud.
BlackBerry claimed the Passport has a louder speaker than the HTC One and Samsung Galaxy S5, meaning it could replace your landline or other speaker phone.
BlackBerry has also included a 3450mAh battery in the Passport, putting it well ahead of the capacity of the batteries in all high-end smartphones on the market today. The company claims this will give 30 hours of battery power.
One of the big problems with BlackBerry's previous smartphones has been the lack of apps available on BlackBerry World, but the Passport is looking to circumvent this by featuring Amazon's Appstore preloaded, so you can download Android apps that have been tweaked to run on the BlackBerry OS - meaning apps from Netflix, Fitbit and Pocket are now available.
Smartphone future
The Passport is one of four smartphones being launched by the company in 2014, with the Z3 and expensive Porsche Design already going on sale.
The final smartphone launched by the company this year will be the BlackBerry Classic which will be launched later this year.
While many believed that BlackBerry (formerly Research in Motion) would disappear from the mobile phone landscape entirely the company has reiterated that mobile phones are still firmly part of its future.
Just over 12 months ago, the company announced that it was was suspending trading of its shares on the stock market as it is looking into a number of possibilities for the future of the company.
However over the past 12 months new CEO John Chen has managed to steady the ship and its financial results in June with stock up 30% year-on-year. At the time Chen said: "This is, of course, the very beginning of our task and we hope that we will be able to report better results going forward ... We feel pretty good about where we are."