Tributes have been paid to 11-month old Ava Jayne Corless who was mauled to death by a dog at a house in Blackburn.
A 20-year-old woman, believed to be the baby 's mother, Chloe King, and a 26-year-old man believed to be her boyfriend, have been arrested on suspicion of manslaughter.
Ava was killed after been attacked by the dog on Emily Street. She was taken to Royal Blackburn Hospital but died of her injuries.
Lancashire Police confirmed the infant was attacked by an "American pitbull-type" dog. The animal was later destroyed.
The child's father, Dean Corless, 24, has paid tribute to his "adorable little girl".
He told the Mirror: "I am absolutely devastated after what has happened. I found out late last night and rushed to the hospital to see her straight away.
"She was the most beautiful and adorable little girl, she was just the best. She was my whole world."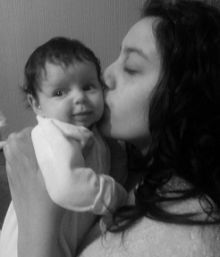 Corless said while he and Ava's mother were no longer together, he still regularly saw the 11-month-old.
He added: "I will miss her every single day, I just don't know what to do now. It is just so tragic. I have my family around me now, but we are all devastated."
Grandmother Bernadette Corless, 51, said: "I just can't believe it, it's such a shock. She was so young, it is so unfair for a baby to be taken away at that age.
"She was just beautiful – like a china doll. She was a lively baby and was always happy."
Chief Supt Chris Bithell of Lancashire Police said: "This is an absolutely horrific incident in which a baby girl has lost her life and I would like to take this opportunity to express my own personal sympathy to the wider family of baby Ava."
A spokesperson for North West Ambulance Service said: "We got a call at 22.59 to Emily Street.
"We sent a rapid response vehicle and two ambulances.
"They got to the scene within five minutes to reports of a dog attack."
Officers are continuing to carry out enquiries at the scene and investigating the circumstances of what happened.