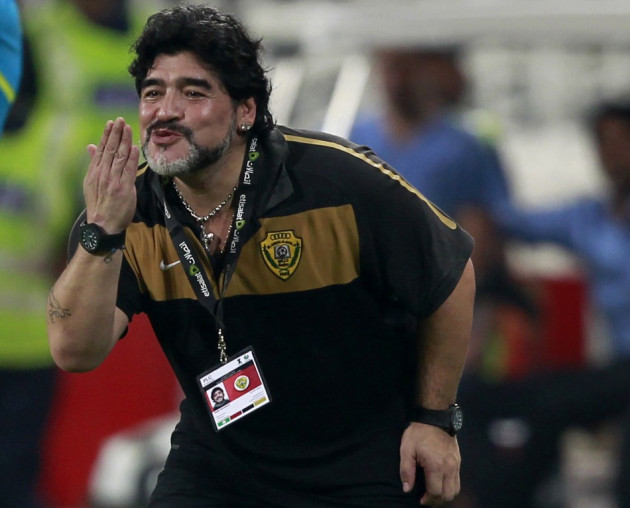 Blackburn Rovers have reportedly expressed an interest in procuring the services of Argentina legend Diego Maradona as the club's new manager, after the departure of Steve Kean from the helm last month.
Kean, whose stay was opposed by supporters for several months, was finally shown the door on 28 September, with Rovers currently in third position in the Championship. The sacking was also seen as a late response of the angst among Blackburn fans, who last season saw their club being relegated after 11 successive years in the Premier League.
In a bid to instil faith among fans over the clubs' direction, club owners Venky's have asked advisor Shebby Singh to search for a new manager. And, according to the Daily Mirror, the former Malaysia international is currently taking a keen interest in landing Maradona, after the Argentine was ousted from Saudi Arabian club Al Wasl.
Though Maradona's footballing career was marred by issues of drug abuse, his credentials as a player was never in doubt, especially after the attacking midfielder almost singlehandedly led Argentina to a World Cup triumph in 1986 in Mexico. However, his record as a manager is not in the same pedestal as his achievements as a player, with the 52-year-old drawing immense criticism during his time with La Seleccion from 2008 to the 2010 World Cup.
In the event of Rovers failing to tie up the Argentine to English shores, Singh has lined up Chelsea legend Gianfranco Zola as a potential alternative, despite the Italian committing to Watford for this season. Blackburn have also been linked with a move for former Tottenham Hotspur manager Harry Redknapp to fill Kean's post.
Kean had earlier revealed that he was forced to resign as manager as his position in the club had been made untenable by several parties associated with Rovers.
"For reasons that I cannot discuss on legal advice, it is with deep regret, given my hard work and service for the club for a number of years, that I have been forced to resign as manager of Blackburn Rovers Football Club with immediate effect, due to my position as team manager becoming untenable," the 45-year-old stated.