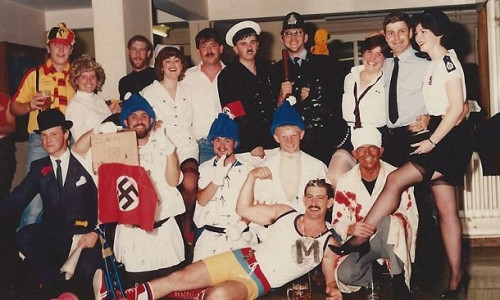 A "secret" Facebook group used by trainee police officers shows photos of its members wearing Nazi uniforms or daubed with black face make-up and contains sexist and homophobic jokes.
The group, I Survived Ashford Police Training Centre, is a closed group set up by current and former officers to reminisce about their time at the police training centre in Kent.
The revelations about the Ashford training centre, which trained thousands of officers between 1973 and 2006, were exposed by a whistleblower to iacknowledge.net.
Members of the Facebook group posted several photos online, including one of a male officer posing in blackface make up, while others have dressed up as Nazis and are posing with Nazi flags for the picture.
Also featured were stories about how trainees were taught to take suspects "down an alley and sort 'em out".
"It's almost like a confessional," the officer told The Times. "[Ashford] was a drink fest and a shag fest. It's very much a culture of 'what happens at Ashford stays at Ashford'," she added.
"1984 - what we could get away with then," one of the group said commentating on the pictures.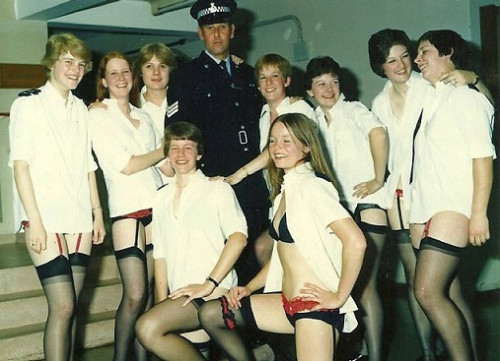 Another photo shows more than half a dozen female officers posing in suspenders next to a fully clothed male. One member comments how disappointed he is this behaviour is no longer acceptable.
"Imagine that now. In a climate where you can get threatened with the sack for sending rude texts to mates," he said.
"How can the public have faith in a service that allows officers to behave in a way that contradicts their duty?" said the whistleblower, who retired from the force on medical grounds following an accident at work.
Another post talked about one sergeant was fired from Sussex police for "inappropriate gayness"
The group only became closed to the public last month. Explaining the decision why they decided to make it an invite-only group, one user wrote: "It doesn't bear thinking about if some of the stories and photos got in the wrong hands. The Media could have a whale of a time. They print enough s***e about us as it is."
Kent Police said it was not responsible for the centre itself, and cannot launch an investigation unless a complaint from the public has been made.
A spokesman for the College of Policing said: "As the new professional body for policing, we set standards for the service and the behaviour shown does not reflect what we would expect in modern-day policing.
"Each person working in the service needs to ensure their online presence meets the standards expected of them."