Anaheim is a sporting town. It has a hockey team, the Anaheim Ducks, and two stadiums, the Anaheim Arena and the Honda Centre. It's no mere coincidence that Blizzard, maker of games World of Warcraft (WoW), Diablo, and Starcraft, has chosen to host the grand finals of its various professional gaming tournaments here.
On the second day of BlizzCon 2014, Blizzard's annual fan convention, I headed over to the Arena - and it was packed. I know pro-gaming (or esports) has gathered a sizeable following over the past decade, but even so, I thought Anaheim was selected as a tip of the hat to great sporting events, rather than through pragmatism.
But the Anaheim Arena is a necessity. A massive venue, that's formerly played host to gigs from major bands and sporting events like the WWE's Smackdown show, Anaheim Arena could barely contain the thousands of fans that turned out to cheer on their favourite Starcraft, Warcraft and Hearthstone players. This isn't some novelty event, or a knowing in-joke. This is a bona fide sport, complete with professional commentators, liquored up fans, and big, big salaries.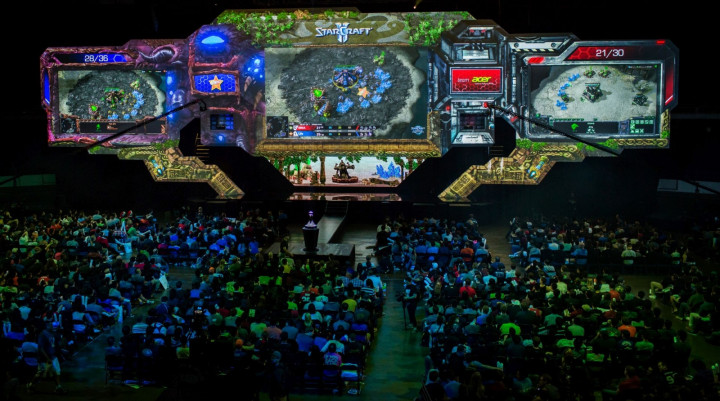 Still, I find it vaguely absurd. I'm happy to reduce the credibility of my profession and admit that video games, in my mind, have very little cultural worth above playful entertainment. I don't buy the idea that Minecraft can help educate children, or that playing hours of games can improve your critical faculties.
So esports seem faintly risible to me, bordering on the grotesque. I'm stood in a room watching thousands of people, young and old, male and female, screaming and cheering because a person at a computer has successfully completed an input. Surely, this can't be taken seriously.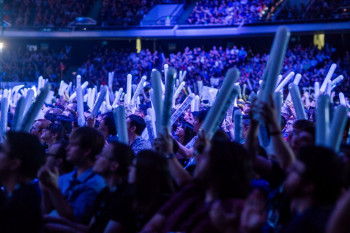 I headed back to the hotel bar and ordered a drink. On the TV they were showing a game of American football. As a foreigner I have no idea what's going on. There's evidently some skill involved here, and it's conspicuous enough to get an occasional rise from the myriad onlookers, but I can't work out what the big deal is.
It occurs to me that professional gaming is no weirder than any other sport. The barrier to understanding isn't the absurdity of the game, it's my patronising incredulity.
So I downed the drink and headed back to the Arena, and struck up a conversation with a guy watching the professional World of Warcraft tournament. He's wearing a foam finger and he's had a few beers – he's exactly the kind of guy you'd find at a football game.
"I prefer 'normal' kinds of sports," he explains "but this to me is still a lot like baseball. I think, actually, in ten years, it won't even be referred to as 'esports.' It'll have its own league, same as anything else."
He tells me he's here with his wife. She's not a fan as such, but he's explaining the game to her and gradually she's getting into it.
"I think it's wonderful," she says.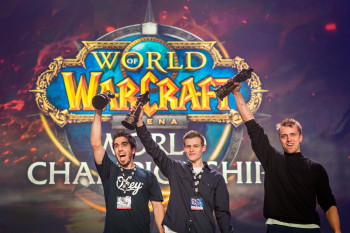 Later that day, James Kostesich, an 18-year-old from the US under the username Firebat, wins the inaugural world Hearthstone championship.
Hearthstone is a competitive card-style video game, based around characters from World of Warcraft.
It's Kostesich's first major tournament and his grand prize totals $100,000 (£63,000).
"I'd never been invited to any of the major tournaments before," he explained "but some people know me from watching me play in open tournaments and online ladder games.
"To get to here, I had to finish in the top 16 on what we call the Legend Ladder, which is like an open Hearthstone ladder. Then I got to go through to the qualifier in New York City and then onto the finals here. In all, it's been around an eight month journey and it's taken a lot of time out of your life. There have been a lot of nights where I haven't slept."
Kostesich works a day job, where he monitors the journey progress of trucks for a haulage company and gives them directions via radio. He says his boss lets him keep a second screen open, which he uses to practise Hearthstone.
"I'm gonna save the money and invest it," he says about his winnings. "I'd like to retire early, though."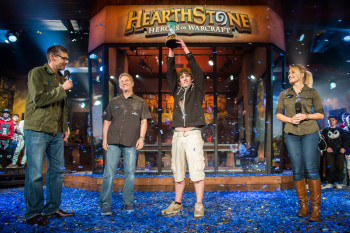 I hang around Kostesich a while longer to see how other Blizzcon attendees react to him.
Sure enough, his victory has turned him into a minor celebrity – people want to interview him for their blogs, get pictures with him, shake his hand.
He's even accompanied by two public relations guys, both former pro-gamers. One of them, who asks not to be named and insists an article about Firebat will "get more hits," has also won a few grand on the circuit, but parked his career to focus on medical school.
These aren't stupid or strange people; they're certainly not - despite the image "pro gamer" might conjure - nerds. They recognise this as a job, and far from indulging in it merely for kicks, they sweat, strain and struggle in the hope of scoring a paycheck.
Esports doesn't have to explain itself to me, but what I see in Kostesich and the other pro-gamers at Blizzcon, are smart people who have found a way to make big money and a modicum of fame. Pro-gaming isn't some pick up, put down counter cultural lifestyle – it's a profession.
Kostesich texts his parents to tell them he's won. They don't believe him – apparently they've never understood how a person can make money from playing a video game.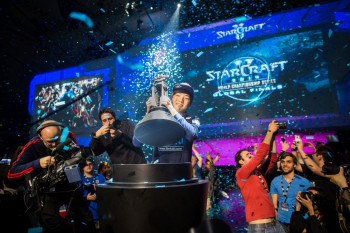 "You can get a college sponsorship now if you play League of Legends," Kostesich says. "Twitch streamers are making six figures a year just from playing online.
It's becoming a respectable career option. People want to watch this, and that means you're generating a product and people will advertise on it. In the end, you have to respect those numbers."
He goes back to his hotel room to finally get some rest. Later, the other winners arrive in the press room.
The Starcraft and Heroes of the Storm champions have both collected $100,000, while the victorious World of Warcraft team, a trio from the US, has pocketed $120,000 between them.
If people are doubting of esports, it's merely because they're new to the idea.
Eventually, like football, like cricket, like the rest of our the games that probably began with a bunch of people running around a field looking kind of silly, professional gaming will be accepted as a mainstream spectator event.