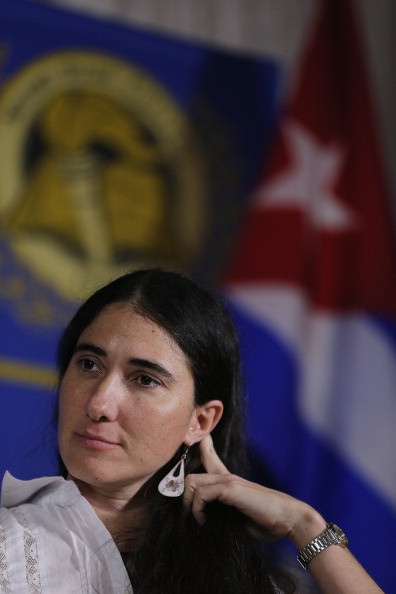 Dissident blogger Yoani Sanchez said she plans to launch an online newspaper to focus on everyday daily news from Cuba and not as an opportunity to attack the communist government.
Sanchez is already well-known through her blog Generación Y for her critical views of Cuban life under the communist party, despite the country's harsh censorship laws.
The news site's editor-in-chief, Sanchez's husband and activist Reinaldo Escobar told the Associated Press news agency that the paper will try to avoid any clashes with the authorities.
The site will avoid using loaded words such as "dictatorship" and "regime" and will refer to Castro as "the head of state" or "President Gen Raul Castro".
The new website, to be called Catorce y Medio -- translated as Fourteen and a Half, the year of the paper publication, 2014, and medio, the Spanish word for media -- will be produced in Cuba and will not have a print version.
"We want to produce a newspaper that doesn't aim to be anti-Castro, a newspaper that's committed to the truth, to Cubans' everyday reality," Escobar told AP.
"If the reality we reflect seems uncomfortable, that's not us, that's reality."
Escobar said Catorce y Medio is being funded by independent investors, both Cubans and foreigners; however, he declined to reveal their identities.
In her Twitter account, Sanchez described the new publication as "a space to tell Cuba's story from inside Cuba".
Critics, however, argued that due to the extensive censorship in the country, the online newspaper will reach very few Cubans.
The government has made no official comment on Sanchez's plans.
Sanchez manages to run her own blog by emailing articles to friends outside Cuba who then upload them online.
She also helped set up Contodos, a magazine promoting Cuban free expression.