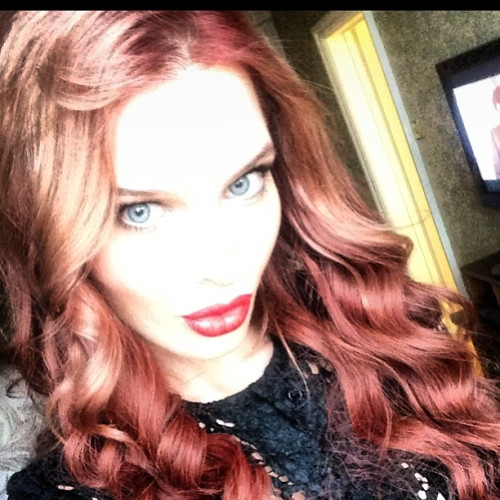 She may have ditched her blonde locks but Helen Flanagan is still the queen of saucy selfies.
Hours after a mane makeover, the pouty former Coronation Street star took to Instagram to show off her new red hue.
"My first ginger selfie" she wrote alongside the image of her posing with her flame-coloured hair in luxurious curls. She completed the sultry look with hot red lips and a lace black top.
"Even the sweet Virgin Mary wouldn't have looked that good. And she f**ked an angel x" one admirer said.
Another wrote: "Ginger, blond, black doesn't matter you're soooooooo beautiful!!!!!!!"
A third commentator added: "Stunning! Gingers have more fun, trust me."
Flanagan, who is no stranger to showing off her bodily assets, let her hair do the talking for a change when she unveiled her new tresses earlier this week.
In the image taken by photographer Stacey Clarke, she can be seen pulling her famous pout while striking a sexy pose.
She captioned the image: "I love my new red hair ?❤ by @vickyhairempire @hershesons she is the one ? photography @staceyclarkephoto ? #ilovechange ?"
It is possible that the 23-year-old star's image overhaul was prompted by her recent reunion with footballer Scott Sinclair. The pair, who split up in June 2013 after three and a half years of dating, got back together in December.
Earlier in February, the actress revealed she had changed her eating habits and started exercising in an effort to tone up.
"Very happy today. For a whole month I have been so disciplined and focused and have really slimmed down and toned up :) I've gone from a curvy size eight to a very slim eight, I'm only 5ft 3 x." she said.
"I have done it by being very disciplined but not by depriving myself of things I enjoy such as wine and chocolate. I have also been working out every day for an hour."