Bloodbath in Manila as hundreds of 'drug pushers' hunted down by death squads
New President Rodrigo Duterte gives police and vigilantes green light to wage unprecedented war on drugs.
Lying in the middle of the road, Jennelyn Olaires hugs the dead body of her partner, refusing to let him go. By the time the forensic team reaches the area, there are already TV cameramen filming the scene, their powerful lights beaming down on Olaires.
Michael Siaron, 30, was waiting for passengers when he was gunned down after midnight by unknown men riding a motorbike in Pasay, close to one of Manila's busiest highways, famous for its 24-hour traffic. Near his body, a note reads: "I am a pusher, don't follow."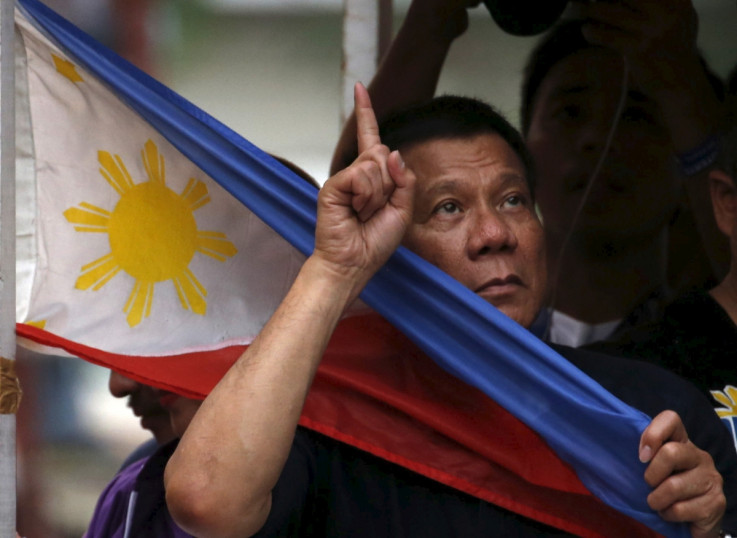 Rodrigo Duterte with the Philippine flag during his presidential campaign
Erik De Castro/Reuters
"Michael has been using drugs for one year but never was a dealer", Olaires screams at the cameras, her partner's blood still on her face.
The scene was a short ride for the reporters coming from another crime scene, also in Pasay, where unidentified suspect #91 was killed by unknown hit-men. The victim was found dead on the ground with a long streak of blood and a sign tagging him as a drug pusher and thief.
Hundreds have been killed in drug-related incidents since Rodrigo Duterte was elected president of the Philippines, almost two months ago. Meanwhile 120,000 reported drug offenders voluntarily surrendered to the police force. So far Duterte enjoys the highest trust rate in Philippine history.
Extrajudicial killings are not new to the Philippines; this is how media has been documenting casualties of the drug war, updating a "kill list".
That night, the body count started at 9.30pm, witnessed by reporters stationed at Manila central police station. The group got the first call only a few minutes after coming on duty. Redentor Manalang, 50, had just been murdered by unknown hitmen, while driving his tricycle. An epitaph was left behind: "don't emulate me".
"One week ago, we had 18 dead, that was a very long night", says Patrick Adalin, a photographer for the local tabloid Abante. "Due to all ongoing operations, something is happening every single night."
"We are many more journalists than before", added Noche Cacas, working the graveyard shift for one year now. Cacas uses a talkie-walkie to do live reports for DZRH, a local radio station.
Based on official police data and local news reports, there has been on average 10 killed daily in drug-related incidents all over the country. As of 25 July, the death toll since 10 May – a day after Rodrigo Duterte was elected – has reached 430 according to The Daily Inquirer, 579 according to TV news channel ABS-CBN.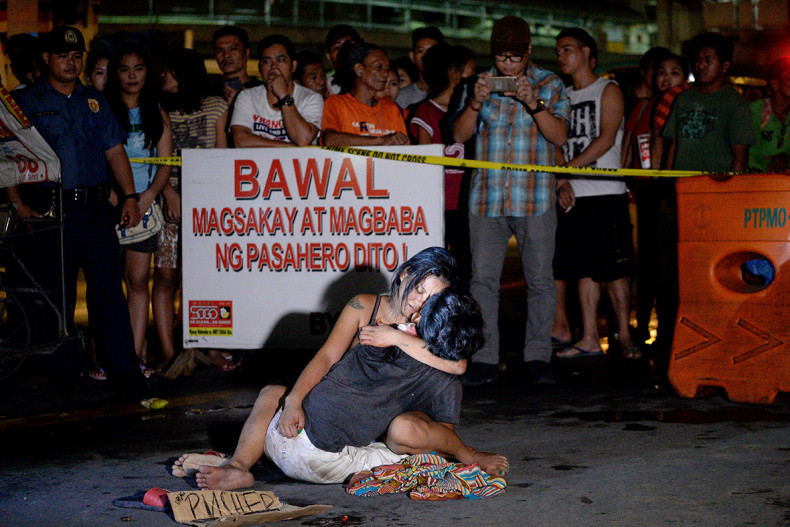 Of the 579 there were 377 killed by the police, 154 by vigilante groups and 48 victims of "salvage". Most of the time, salvage means wrapped in plastic and dumped.
"That death toll dwarfs the 68 killings of suspects that police recorded during anti-drug operations between January 1 and June 15", wrote Phelim Kine, Asia deputy director of Human Rights Watch. The police denied accusations of extrajudicial killings and said suspects ended up dead because they resisted arrest or fought back.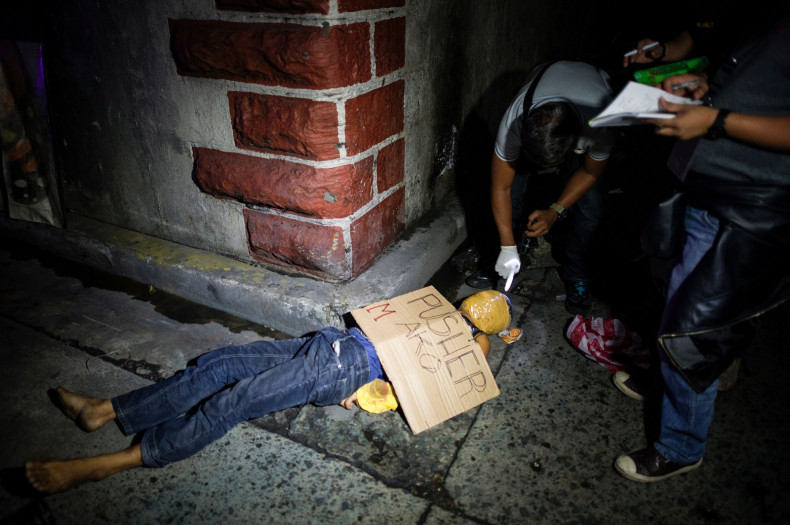 Since the beginning of the anti-drug campaign, 3,600 drugs offenders have been arrested and 120,000 reported drug offenders voluntarily surrendered, including 7,000 pushers.
Officials claimed a positive effect on petty crimes and have even dubbed the phenomenon "the Duterte effect". Crime has decreased by 13% since Duterte won the presidency, according to the government, while petty crime - including bag-snatching at tourist areas - has also dropped significantly, the Philippines' presidential communications office claimed.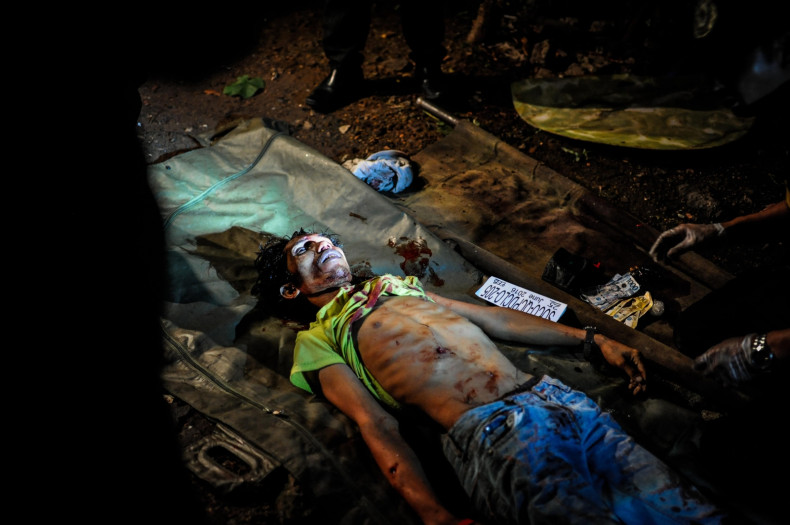 Yet concerns rise over the surge in killings of mostly poor people. The Commission on Human Rights recently launched a test probe on 103 cases, including 33 drug-related killings during a police operation. Enshrined in the country's constitution, the independent CHR looked into the summary killings associated with the "Davao Death Squad" linked to Rodrigo Duterte, when he was still the mayor of the southern city. No clear evidence of his responsibility was revealed.
"The problem with this kind of killing is, we would never know who is more deserving to be killed, this pedicab driver even assuming he is a drug pusher or the persons who killed him. Worst, those who are killed die with their names tarnished as a drug pusher or a criminal. Never mind if it is true, but what if it is not true?" said one critic, Noly Sosteza, on Facebook.
In his first state of the nation address on Monday (25 July), President Rodrigo Duterte compared the photo to Michelangelo's Pieta : "And you are portrayed in a broadsheet like Mother Mary cradling the dead cadaver of Jesus Christ. To those who have done so, you are dramatising her."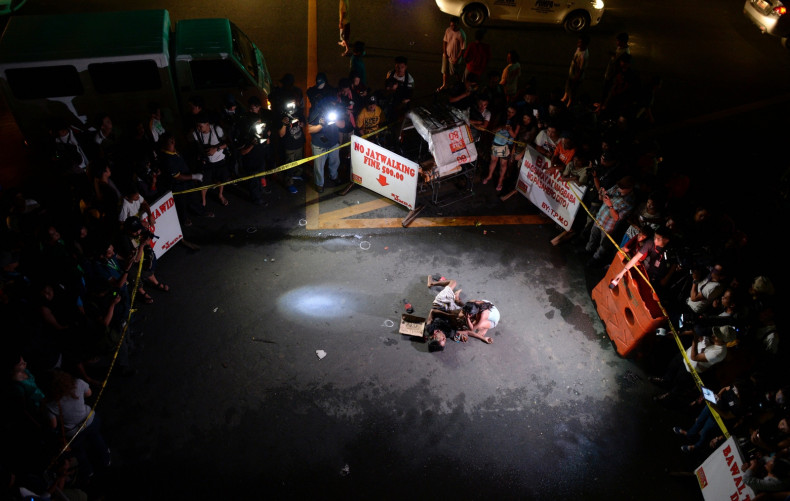 Duterte said pushers should only blame themselves for being slain for their activities. Last month, he named publicly top drug dealers among high-ranking officials, forcing them to resign.

So far President Duterte enjoys the highest trust rate (91%) in the archipelago's history, according to the latest poll released by Pulse Asia. For most Filipinos, the new administration should prioritise economic issues, including antipoverty programs. The immediate address of criminality comes second (48% of surveyed).
An estimated of 1.3 million Filipinos are drug users and more than 99% of Metro Manila barangays (the smallest administrative division) are affected, according to the Dangerous Drugs Board. Metamphetamine or "shabu" is the drug of choice, imported by foreign cartels, now produced locally. It is also considered one of the most addictive substances.
"There will not be a let-up in this campaign against illegal drugs, promised Duterte during his speech to the Congress. "We will not stop until the last drug lord, the last financier, or the last pusher is put behind bars or below the ground if they so wish."
---
Marianne Dardard is a journalist based in Manila
---