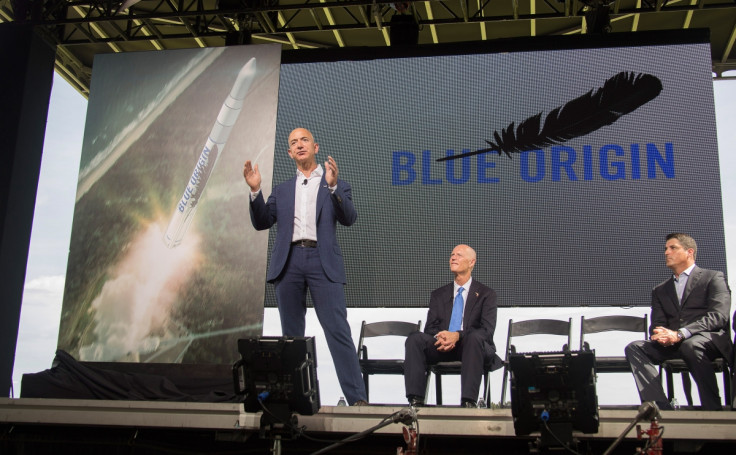 After testing its first spacecraft in April this year, billionaire Jeff Bezos has announced his company Blue Origin would launch a new, bigger and more powerful rocket into orbit from Launch Complex 36 at the Cape Canaveral Air Force Station. Hinting at possibly opening a factory to manufacture rockets, the Amazon chief executive announced on Tuesday, 15 September: "We're not just launching from here [Launch Complex 36]. We're building here."
The unnamed monster rocket will take on spaceflight companies such as the US-based aerospace SpaceX and Sir Richard Branson's Virgin Galactic that are exploring commercial space vehicles.
Previously, Blue Origin had tested its New Shepard spacecraft, which would allow the company to take tourists into space for a 10-minute zero-gravity experience. Although it is not clear what the billionaire plans to launch from the Florida base, it is expected to be large enough to reach orbit.
Bezos said: "[The spacecraft] will be large enough to reach orbit, and it will debut later this decade. We're building a vehicle for humans, that's my personal passion. [Such a rocket] can clearly lift payloads of all kinds."
According to reports, the new rocket will be completely reusable, just like the one SpaceX has been working on. However, unlike the New Shepard, the upcoming spacecraft would be powered by BE-4 engines instead of the BE-3 engines.
Blue Origin has teamed up with United Launch Alliance to build BE-4 engines for the rocket, which will be fully reusable, Bezos said, while unveiling his plans to launch the rocket at Florida's premier launch complex in Cape Canaveral.