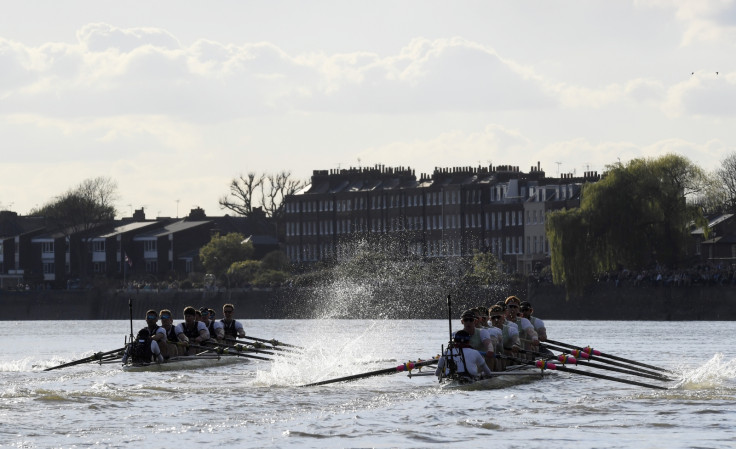 Oxford edged out Cambridge in a tightly contested clash on the River Thames to win the men's race by a length. Oxford were favourites going into the 163rd men's boat race but were pushed all the way by Cambridge, winning by just around a length in the end.
Blades clashed during the battle with umpire Matthew Pinsent bellowing a warning to both camps, but in the end it was the Dark Blues' day as they secured victory in 17 minutes. The celebrations were muted at the finish line due to the immense effort put in by both shades of blue.
"The harder the race, the more you can savour it at the end," Oxford president Michael Disanto told BBC Sport. "There is nothing like this. We were better on the day and we wanted it.In the autumn nothing was going our way and we have been building and it has culminated in this."
Disappointed Cambridge captain Lance Tredell delivered a defiant message ahead of next year's race: "Bitterly disappointed not to get the result today. We stuck together, but it wasn't enough today.
"There was no stage where we backed off, we were pushing the whole way. Congratulations to Oxford on the win but Cambridge will be back."
In the women's race, Cambridge secured victory in record time as Oxford were left to rue an abysmal start. The Light Blues reached the finish line in 18 minutes and 33 seconds, while the Dark Blues, so dominant in previous years, clocked a time of 19 minutes and five seconds.
Cambridge were the favourites going into the race and their chances of emerging victorious over their old foes were enhanced substantially due to Oxford's woeful start to the race on the Thames. It was Cambridge's first victory since 2012, and it was definitely one to savour.
Cambridge bow Ashton Brown was understandably jubilant after the race. "Couldn't have done it without an amazing squad. So proud of my squad, couldn't have done it without them. We got the race we wanted to have. Last year we felt a bit robbed."