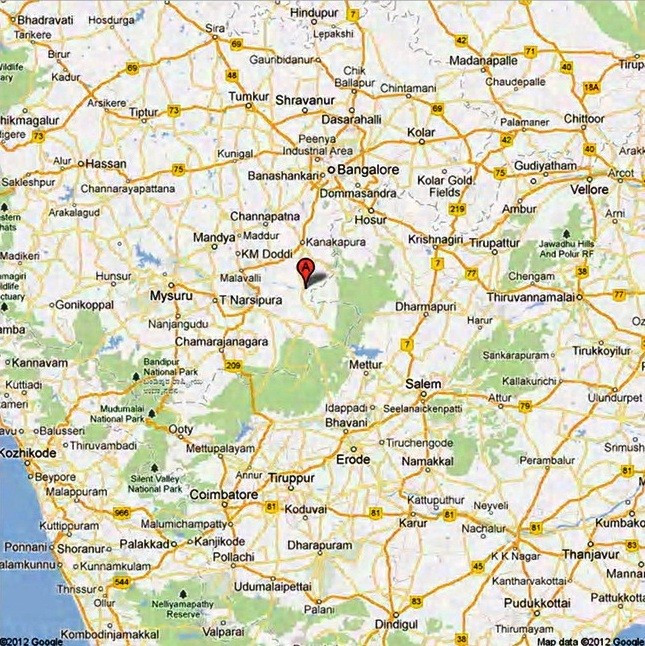 The bodies of two Britons who went missing on 19 May have been found in a highly decomposed state in a river in the south Indian state of Karnataka.
According to reports, the bodies were wedged between rocks in the river Cauvery at a popular tourist spot called Mekedatu, near the town of Mandya, about 100 kms from Bangalore.
The Hindu reported that Ian Turton Samuel Bernard, 45, and Michael David John Easton, 57, had arrived on 19 May at the spot for river rafting and fishing. The paper reported that their raft capsized and they died of head and chest injuries.
A local resident informed the police about the bodies which were later taken to the General Hospital at Kanakapura for postmortem, the paper said.
Turton was from Yorkshire but from where his friend Easton hailed was not clear.
"The rescuers also used helicopter to trace the missing foreign nationals," said the Superintendent of Police, Anupam Agarwal, according to the news agency Press Trust of India.
A rescue team comprising 60 members was searching for the missing duo along the river for almost a week.
The police have recovered Turton's mobile phone also.
"We will intimate the British Embassy about the bodies. So far, no one [relatives or friends of the two] from Britain have contacted us. We will hand over the bodies to the authorities of the companies where the two were working," The Hindu quoted Agarwal as saying.
Earlier reports suggested that the missing pair might have fallen prey to crocodiles in the region.
"Considering that the water is less than chest-deep, drowning is ruled out. The raft was found punctured, obviously in a crocodile attack. The Cauvery [river] here is infested with crocs and it was suicidal for the two men to have tried to enter the river in an inflatable raft," the Deccan Chronicle quoted a rescue team source as saying.
Turton was heading a project at Tenneco Automotive at Hosur in Tamil Nadu.
Turton's family was reportedly desperate about the situation and prepared to come to India. "It's getting harder and harder as time is going on. Myself and my brother Philip have applied for Indian visas should the worst happen and we need to go out to deal with paperwork. Ian is a very resourceful, adventurous man so if there's a chance of survival out there he would have taken it. I last spoke with him on Friday [18 May]. He told me about his planned trip but I wasn't worried," said his brother Nigel, according to the Yorkshire Post.