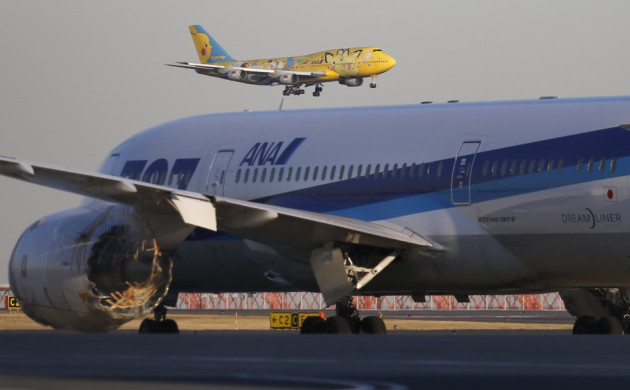 Two Japanese airlines have said that they had replaced a number of batteries in their Boeing 787 Dreamliners before the jets were grounded due to apparent battery malfunction.
All Nippon Airways said they had changed below-par lithium-ion batteries 10 times last year, while Japan Airlines (JAL) said it did so in a few cases.
In early January, a battery in a JAL 787 aeroplane caught fire, while a battery malfunction forced All Nippon Airways to ground one of its Dreamliners.
Later, the entire fleet of 787s was grounded forcing Boeing to halt deliveries of the jets. Boeing, which competes against its European rival Airbus, currently has orders for more than 800 Dreamliners.
The mishaps related to the battery had prompted the US and Japanese authorities to launch a probe into the technology used in the battery to find out the root cause of the problems.
However, Japan's transport ministry found no faults with the battery, leading to concerns that the problem is with some other parts or design of the aircraft and they would remain grounded for a while.
Analysts were warning that the company that it might require a major redesign to tackle the issue.
Meanwhile, the US National Transportation Safety Board (NTSB) said it was carrying out a microscopic investigation of the JAL 787 battery. However, NTSB was unable to say when it is likely to complete the task.
Separately, Tech entrepreneur Elon Musk who is also the founder of electric carmaker Tesla and aeronautics firm SpaceX has offered to help Boeing fix apparent problems with the batteries, AFP reported, citing a spokeswoman of SpaceX.
Boeing spokesman Marc Birtel confirmed the aircraft giant was seeking help of a number of experts, both inside and outside the company, but did not reveal the names of the experts.