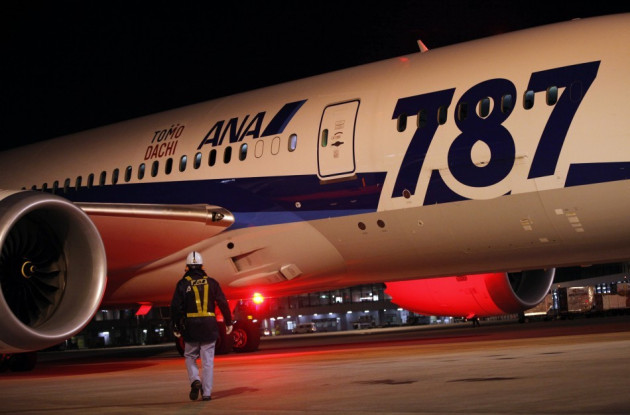 A series of problems with Boeing's new 787 Dreamliner has caused American regulators to take the rare step of launching a review of a plane they had already approved, focusing on its electrical systems.
This was prompted by five separate incidents involving the new plane in five days. They included a battery fire discovered following the detection of smoke in an empty cabin of a Japan Airlines 787 at Boston's Logan International Airport.
Japan's largest operator of the new jet, All Nippon Airways, said one of its Dreamliners had suffered a small oil leak.
A different plane was grounded for repairs after the discovery of a crack in its cockpit windscreen.
Some days earlier, a fuel leak forced another Japan Airlines jet to return to its gates minutes before take-off from Boston. Around 40 gallons of fuel were discharged across the tarmac.
Technical experts from the US Federal Aviation Administration originally gave the aircraft the all-clear in August 2011, after spending over 200,000 hours testing the jet.
However, they will again undertake a thorough examination of the design, manufacture and assembly of the plane, in light of these new issues.
The Dreamliner, which costs around £134 million, has been hit by over-running costs and production delays.
Composed mainly of light-weight composite materials instead of the usual aluminium, it is marketed as a more fuel-efficient alternative to the current models of jets.
The plane was Boeing's answer to the growing prominence of Airbus and its new A380 super-jumbo. However, the A380 suffered its own setback after wing cracks were discovered last January.
Airbus's European parent company EADS revealed it took a £165 million hit because of money spent on repairs.
Boeing could end up with a sizeable bill if the FAA review calls for a change in the design of the 787 or other modifications.
Boeing's shares fell by more than 2 percent following the announcement of the review.
The company hopes the plane will revolutionise air travel. Half of the 787 is made from carbon-fibre composites, which are lighter and stronger than the aluminium used in traditional planes. This means the jet burns less fuel, which is a big selling point as fuel is an airline's biggest expense.
More than any other modern airliner, the 787 relies on electrical signals to help power nearly everything. It's the first Boeing plane to use rechargeable lithium-ion batteries to start its auxiliary power unit, which acts as a generator to provide power on the ground or if the main engines fail.
The planes received official backing from Barack Obama's Transportation Secretary Ray LaHood. He said: "I believe this plane is safe and I would have absolutely no reservations about boarding one of these planes and taking a flight."
Boeing has received 848 orders for the 787. So far it has delivered 49.
Operators of the plane to date include United, which is the first US airline customer, with six, Air India, Ethiopian Airlines, Japan Airlines, LAN Airlines and Polish Airlines. Qatar Airways became the first airline to operate regular services to and from Heathrow with the 787.