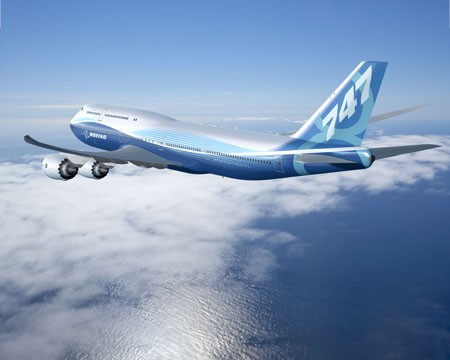 Boeing's competitor to the huge double-decker A380 is 'probably' going to be delivered late, after schedule was delayed, according to Boeing's Vice President of programs, Pat Shanahan.
Speaking at the Boeing Commercial Airplanes press conference earlier this week, Pat described the world's longest passenger airliner as requiring "enhancements in the flight controls" and "some new flight tests we hadn't originally planned."
The Airbus A380, which entered into service 15 October 2007 has arguably pushed Boeing into making the 747-8 - which like the A380 has larger cabin space and can thereby generate efficiencies by carrying more passengers.
However, whilst the Airbus A380 has already entered service and started to gain more orders, worries remain on the 747-8 which has already been moved from 2009 to end of this year.
Airbus meanwhile can boast of 31 aeroplanes in service, with 6 million passengers flown and a growing order, book announced at the Farnborough show was standing at 232, although Airbus need 420 to break-even.
"It's a game changing aircraft." said John Leahy, Airbus' Chief Operating officer, "The economics are amazing. "
Airbus say that on major long-haul routes like Sydney to Los Angeles (Qantas) airlines were increasing capacity by 47 pct but found costs were 23 pct lower - which is exactly what Airbus had in mind when they envisioned A380.
According to the Aerospace Research Centre in Bristol, parallel to the design of the A380 'superjumbo', Airbus conducted the most extensive and thorough market analysis ever undertaken. They stated that if congestion for air traffic increased then 1,771 VLA's or Very Large Aircraft would be needed to cope with the demand over the next 20 years.
"The 32 aircraft in service - we delivered three this past week - have flown 17,000 revenue flights and carried six million people who are going out of their way to fly the A380" said Leahy, "And the economics are amazing."
"Airlines are making a lot of money with the A380. We're not profitable but we're getting there, hopefully by 2014-15." he added.
Boeing, meanwhile continue to focus on the narrower 737 which faces increasing competition from more fuel efficient alternatives - it has announced over 120 orders in the Farnborough air show this year, whilst Airbus has promised new engines on its A320 narrow-bodied competitor to compete.