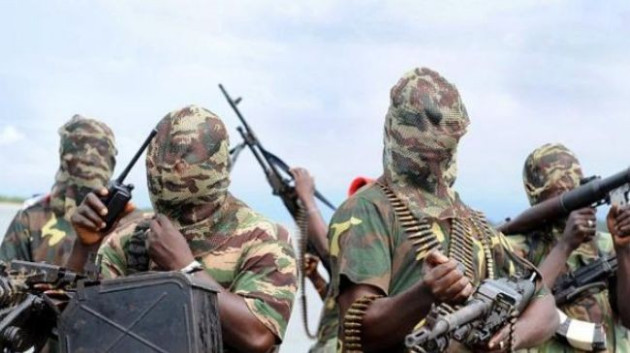 Islamic militants have killed 29 schoolchildren and a teacher in an attack on a boarding school in northeastern Nigeria.
Survivors told of seeing pupils burned alive in the attack, thought to have been carried out in the early hours of Saturday 6 July by members of the Boko Haram terror group, whose name means "Western education is sacrilege".
The attack took place as pupils slept at around 3am in the town of Mamudo, when terrorists stormed the Government Secondary School three miles from the town of Potiskum in Yobe state, setting fire to parts of the complex, which is home to 1,200 people.
Dozens of children fled into the bush, while parents were later seen screaming in anguish as they struggled to identify the charred bodies of the young victims.
Member of staff Mohammed Musa, who taught English at the school, died after he was shot in the chest, according to another teacher, Ibrahim Abdu.
One survivor, aged 15, described waking up to find an attacker pointing a gun at him.
"We were sleeping when we heard gunshots. When I woke up, someone was pointing a gun at me," said Musa Hassan, who was receiving treatment at Potsikum General Hospital.
Hassan was shot in his right hand as he tried to defend himself, losing four fingers. He said gunmen doused the school's administrative block in fuel before setting it alight.
"They burned the children alive," he said.
Malam Abdullahi, a farmer, found the bodies of his sons, aged 12 and 10, among the bodies. Both had been shot dead.
"It's not safe. The gunmen are attacking schools and there is no protection for students despite all the soldiers," he said.
Islamic militants from Boko Haram and other splinter-groups have killed more than 1,600 civilians in suicide bombings and other attacks since 2010, with dozens of schools torched and scores of schoolchildren losing their lives.
President Goodluck Jonathan declared a state of emergency on 14 May, deploying thousands of troops to halt the insurgency after militants seized control of towns and villages in the states of Adamawa, Borno and Yobe.