Boko Haram: Girl child suicide bomber used by group kills eight in Borno State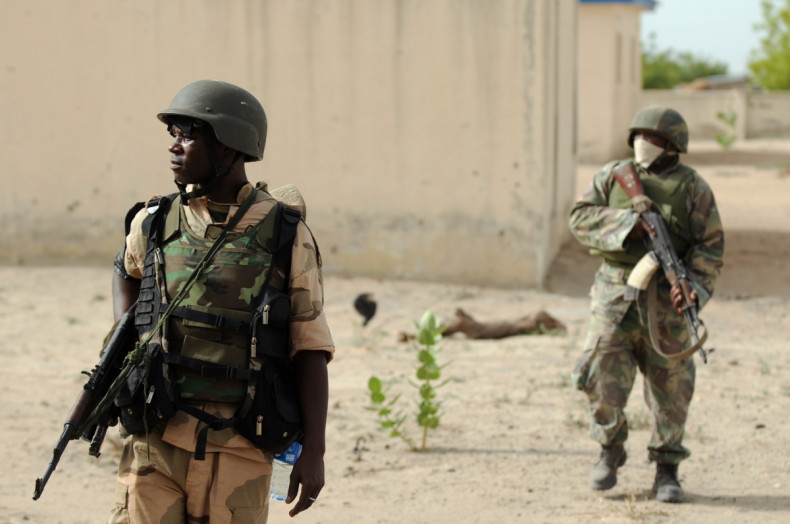 A girl child suicide bomber aged between 11 and 15 detonated her explosives among women and children in Beninsheikh in Borno State in Nigeria when she was on the verge of being frisked after being suspected.
The explosion triggered by Improvised Explosive Device (IED) that was belted to her body killed eight people, including two other fellow suicide bombers, on Sunday (20 December). Twenty-four others were also injured in the attack which the army says was carried out by Boko Haram.
Colonel Sani Usman, Director of Army Public Relations to AFP, said: "They were spotted by the Borno State Youth Empowerment Scheme (Civilian JTF) who suspected something fishy about them. Indeed, one of them was laden with IED. The security and emergency management agents mobilised to the scene. The bodies have been evacuated and all those injured are receiving medical attention." Following the attacks security agencies have intensified patrols and checks in the area, he added.
Meanwile, the Nigerian defence headquarters in a statement on Monday (21 December) warned people to be cautious against Boko Haram. "Suicide bombers used monetary incentives and other inducements especially in crowded places to lure innocent citizens in order to cause colossal damage to both lives and property. People should be vigilant and wary of terrorist malevolence in such places as parks, worship centres and recreation spots particularly in this festive period," read the statement.
Just a day before the bombing, on 19 December, four teenage girls blew themselves up in a village in Cameroon's north region near the Nigerian border, killing five. A few days before that two suicide bombers, again female and young, killed at least 15 people at a busy mobile phone market in Kano in north-east Nigeria. Boko Haram has previously used and is continuing to use young girls as human bombs, dressed in full body covered attires worn by Muslim women.
Mia Bloom, a Professor of the Center for Terrorism and Security Studies at the University of Massachusetts Lowell, told Vice News in a recent report that many of these attacks could be carried out by the kidnapped schoolgirls of Chibok. "There is a big chance they are doing this either because of brainwashing, or because Boko Haram has humiliated them sexually, like with rape, so that there's no option but to become a suicide bomber because of the honour code in place in traditional Nigerian societies," she said.
Nigerian President Muhammadu Buhari had given his military commanders a deadline until the end of the year to end the six-year violence which he recently declared was just a guideline and can be shifted. In the past few months the Nigerian army and the government has been claiming that Boko Haram is surrendering, but the group has refuted the claims.