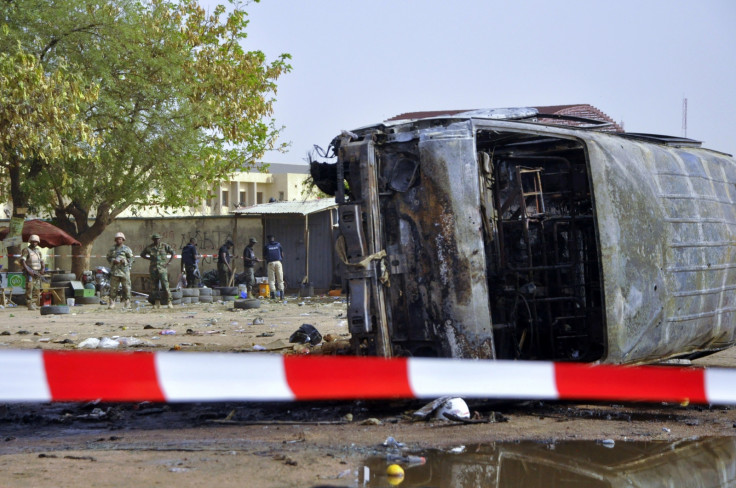 At least 15 people have been killed in twin bomb blasts at a mobile phone market in Kano, capital of Kano state. It is believed that two women detonated explosives they were carrying at the busy market with witnesses saying the death toll could be higher.
The two blasts occurred one day after more than 30 people were killed and 80 injured in Yola, capital of Adamawa state. Both attacks have been blamed on terror group Boko Haram, known for kidnapping civilians - mainly women and children - and forcing them to carry out suicide bombings.
Security forces fired warning shots to prevent people from getting close to the crime scene in Kano, according to AFP.
Who are Nigeria's Boko Haram terrorists?

Boko Haram (recently renamed Iswap) fights against Western influence in Nigeria and aims to impose its version of Sharia law in the country.

The group declared an Islamic caliphate in Gwoza, along the Cameroon border, in August 2014.

Boko Haram has raided several cities in the north of the country in a bid to take control of more territory. Three states − Adamawa, Borno and Yobe − have been under a state of emergency since May 2013, due to Boko Haram's attacks.
Boko Haram directs its attacks at three states in Nigeria - Adamawa, Yobe and Borno - and northern Cameroon, with coordinated bombings also occurring in other parts of Nigeria as well as Chad and Niger. In recent months, Chad and Niger have declared a state of emergency in areas affected by Boko Haram attacks.
When Buhari took office in May, he vowed his administration would end terrorism in the country. Earlier this year, he announced that a new Nigeria-led task force – consisting of 8,700 troops from Nigeria, Niger, Chad, Cameroon and Benin – was ready to take control of the ongoing regional fight against the terrorists.
Some analysts have criticised Buhari after urging the military to defeat Boko Haram by November, a deadline subsequently moved to December. Analysts argued more time was needed to defeat Boko Haram, now deemed the world's deadliest terror group.