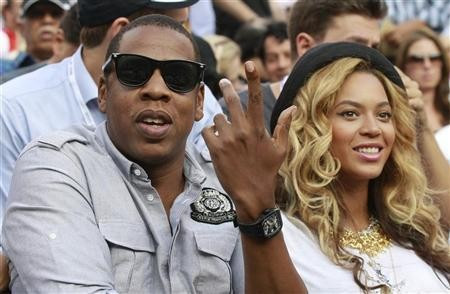 Music power couple Beyonce and Jay-Z are planning a duet for the much-anticipated album Magna Carta Holy Grail.
The 31-year-old Single Ladies hitmaker and her rapper husband, 43, first broke the news of their relationship with their song Bonnie & Clyde back in 2002. They have now returned to the studio to record another collaboration.
Part II: On The Run is a personal track which tells the story of the negative press surrounding the couple when they first started dating.
The song attempts to silence critics who claimed that Queen B was too good for the music mogul, and appears to confirm their unbreakable bond.
Jay-Z has given fans a teaser of the track by releasing its lyrics via his Samsung app.
It features the rap: "She fell in love with the bad guy/ The bad guy/ What you doing with them rap guys/ Them rap guys/ They ain't see potential in me girl/ But you see it/ If it's you and me against the world/ Then so be it."
Earlier in June, the hip hop star teamed up with Samsung to ensure that Magna Carta Holy Grail goes platinum automatically.
He inked a deal with the brand to cross-promote the record, which will be available for free on Independence Day to one million fans using Samsung handsets.
"The idea is to finish the album and drop it. Give it to the world at one time and let them share it," he said in a three-minute advertisement promoting the album.
Magna Carta Holy Grail is set for release on 7 July.