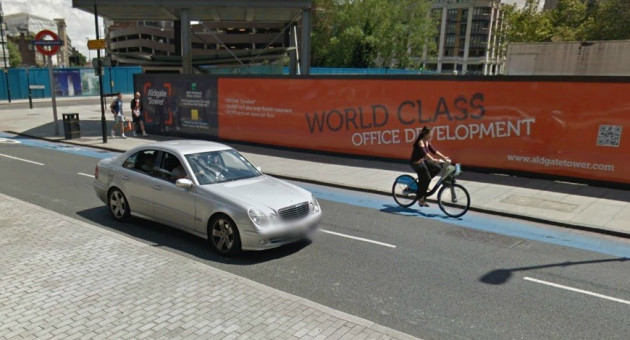 A girl who died after being hit by a lorry in Aldgate, east London, has become the first person to die while riding a London public hire cycle, or 'Boris Bike'.
The girl, who was reportedly 17 years old, died near Aldgate East station on Friday 5 July.
It is the first recorded death involving one of the hire bikes, which were launched by London's mayor Boris Johnson in 2010 and are emblazoned with advertising from a major bank.
She was cycling along Whitechapel High Street when the accident happened, at around 6.30pm.
A post mortem is yet to take place. Next of kin have not been informed, a Scotland Yard spokesman said. The area in which the teenager was killed features distinctive blue painted cycle lanes on the road, called 'Cycle Superhighways'.
London mayor Johnson regularly boasts about the success of the bicycle hire scheme, including the low rate of theft compared with similar schemes in Paris, France.
But concerns have been raised over safety for cyclists using the lanes, with particular attention focused on the route the teenager was using when she died.
Cycle Superhighway 2 runs from Aldgate to Bow, an accident hotspot. Concerns centre on the visibility of cyclists to lorry drivers at left turns.
A Transport for London spokesman said, "Our thoughts go out to the friends and family of the female cyclist who tragically died following a collision with a heavy goods vehicle on Whitechapel High Street.
"We understand she was riding a Barclays Cycle Hire bike.
"Transport for London has a range of measures already underway to further reduce the number of collisions involving cyclists across London and we will be assisting the Metropolitan Police with their investigation into this tragic incident."