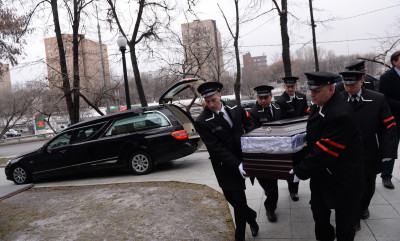 The girlfriend of murdered Russian opposition politician Boris Nemtsov has arrived in her native Ukraine hours after claiming police were preventing her from leaving Moscow.
Anna Duritskaya, who was with Nemtsov when he was gunned down on a bridge overlooking the Kremlin at the end of last week, flew into a Kiev airport overnight, local media reported.
Ukrainian Foreign Ministry spokesman Yevhen Perebyinis announced the 23-year-old model had arrived in the capital in a tweet, saying that Ukrainian diplomats in Moscow had "provided the necessary assistance for her return home".
Duritskaya was accompanied by Vadim Prokhorov, a lawyer for her late partner, who said police questioning had left her emotionally drained, but she was willing to continue cooperating with investigating authorities.
"She has given a full and exhaustive account of her last hours with Boris," Prokhorov said. "If any further investigative action is required, she has promised — something she has done publicly — that she will cooperate. The main thing is that the guilty parties be tracked down".
Duritskaya will be a notable absentee at the funeral of Nemtsov, which are to be held today at a Moscow human rights centre.
Yesterday, she said police were not allowing her leave Russia, with her mother raising fears that, due to her citizenship, her daughter could become a political pawn amid tensions between Kiev and Moscow over the war in eastern Ukraine.
"I am worried that they want to use her, as a citizen of Ukraine, use her as though this situation is somehow something to do with Ukraine," Duritskaya's mother, Inna said. "She has absolutely nothing to do with this killing. She is innocent. Stop abusing my child."
In an interview with Russian independent channel Dozhd TV police, Duritskaya said she didn't see her partner's killer as everything happened very quickly.
Nemtsov, a fierce Kremlin critic, was shot four times in the back while walking on Moscow's Great Moskvoretsky Bridge last Friday.
"I don't know where he came from, but he was behind," Duritskaya said of the gunman. "I didn't see the man. I turned round and all I saw was a light-coloured car. I saw neither the brand nor the license plate of the car that was driving away."
This morning, mourners were gathering to pay tribute to Nemtsov outside the Sakharov Centre, dedicated to the eponymous Soviet-era dissident and Nobel Peace Prize laureate, where the former deputy prime minister's body lay in a coffin.
Ukrainian President Petro Poroshenko said Nemtsov has been posthumously awarded the Order of Freedom.
"For us Ukrainians, Boris will always remain a patriot of Russia and friend of Ukraine. His life has proven that these can be combined," Poroshenko wrote on Facebook.
"Heroes do not die!"
No suspects have been arrested since the murder, which critics of President Vladimir Putin fear will be whitewashed or not properly investigated.
Nemtsov, one of the most prominent figures of Russia's beleaguered opposition, was working on a report on Russia's alleged direct involvement in the eastern Ukraine conflict - something the Kremlin has long denied.
Putin's opponents say Nemtsov's murder was political and the president is directly responsible for it. Authorities and state-controlled media have instead argued the killing was a provocation aimed at destabilising Russia by tainting its leader's reputation.