Two persons, including a schoolgirl from Singapore, have been confirmed to have been killed, following a 5.9 magnitude earthquake that shook parts of Sabah on 5 June.
Sabah's Tourism, Culture and Environment Minister Datuk Seri Masidi Manjun has confirmed that there have been fatalities but did not give details. He said further details would be announced later today.
Malaysia's national news agency Bernama reported that two bodies have been brought down to Pondok Timpohon at the base of Mount Kinabalu, the highest peak in Southeast Asia.
The agency said one of the dead is reported to be a local mountain guide Rubbi Sapinggi, aged 30.
Singapore's Straits Times reported that a 12-year-old Singaporean school girl on a trip organised by the school, was believed to be the second victim.
A group of 29 pupils and eight teachers from the Tanjong Katong Primary School had gone on the trip. The newspaper said eight pupils and two teachers are still unaccounted for.
Lee Hsien Loong, Singapore's Prime Minister, in a facebook message, said the government was arranging to fly the parents of the school children to Kota Kinabalu.
"We are also sending a medical team and liaison officers over, and will work with the Malaysian authorities to give them all the help they need," he added.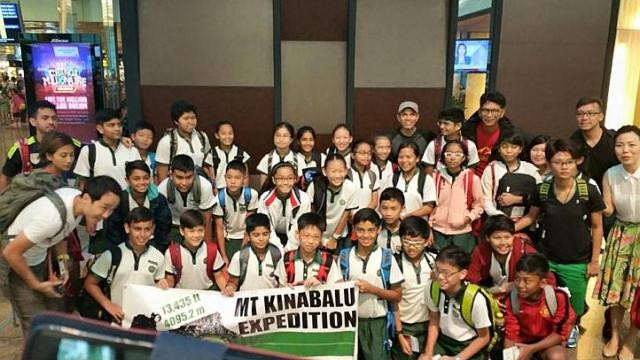 The Star newspaper said the actual death toll from the earthquake has yet to be ascertained. Search and rescue teams are still trying to reach more stranded hikers through another route.
Search and rescue operations officials said of the 189 tourists and guides registered with Sabah Parks, a total of 63, including three injured climbers, have reached the Kinabalu Park base camp.
There were 38 Singaporeans, five Americans, five Filipinos, three Britons, four Thais and at least one each from Turkey, China and Japan.
"Helicopters were hampered from winching aboard the unconscious and injured by the strong winds and thick clouds around the peak, which reduced visibility to zero," an official said, according to The Star.
Blankets have been air-dropped to those trapped as temperatures could drop below zero at night, one rescue official said.
The Malaysian Metereological Department said weak tremors have been felt in Ranau twice (4.3 and 2.8 magnitude) on 5 June.