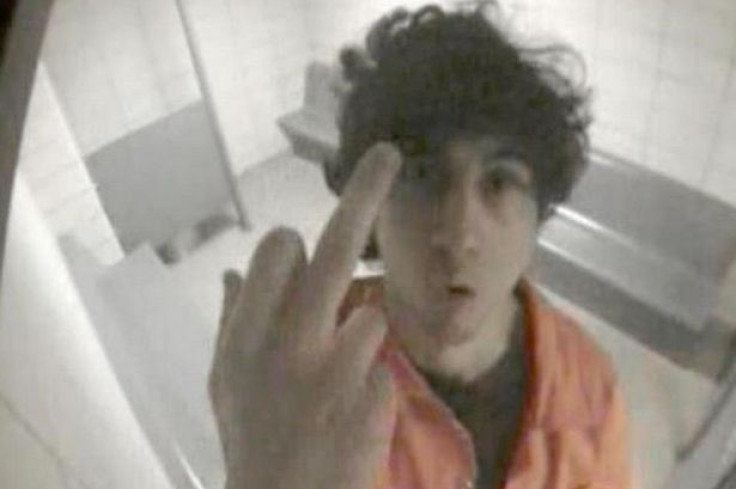 Boston bomber Dzhokhar Tsarnaev gives a defiant middle-finger salute to a prison camera, as a court decides whether he should die for the terror attack.
The image of Tsarnaev in the aggressive pose was shown to jurors as lawyers argued about capital punishment or a life term for him.
Prosecutor Nadine Pellegrini said the 21 year-old was "unconcerned, unrepentant and unchanged" about his role in the Boston Marathon explosions, which killed three people and injured 260.
The image from 2013, taken when Tsarnaev was awaiting a court hearing, comes soon after his mother railed against United States which she branded a "terrorist".
Pellegrini said the young man wanted to be "America's worst nightmare."
Three people were killed and 264 injured when Dzhokhar and his brother Tamerlan detonated two bombs near the finish line of the Boston marathon in April 2013.
An officer was shot dead as the pair sought to evade police, and Dzhokhar killed his brother by running him over in a car.
Police arrested Dzhokhar after finding him hiding in a boat. A hand written note said the attack was to avenge the deaths of Muslims overseas.