Carl Froch assured his fans they will see him at his very best tomorrow night when he defends his IBF World super middleweight title against Yusaf Mack at the Capital FM Arena in Nottingham.
The three-time world champion is a firm favourite to overcome his American challenger but he insists that he is not looking past Mack as he looks to secure rematches with Mikkel Kessler and Andre Ward.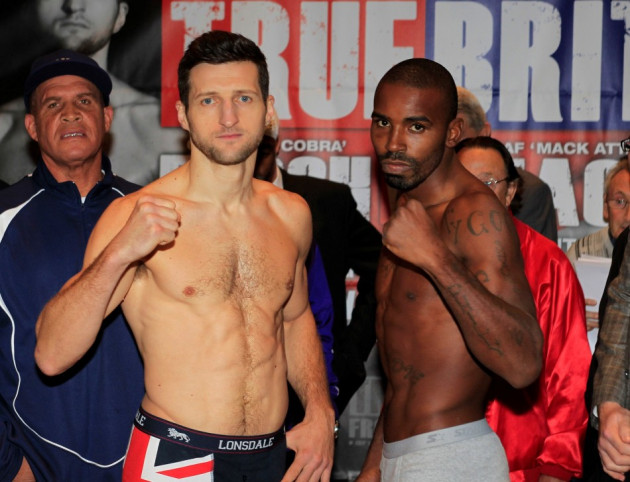 "I've trained just as hard for this fight as I did for the Bute fight," said Froch at today's weigh-in, where he tipped the scales at 11st 13lb 8oz, with Mack coming in at 12st. "The training, the physical side of it: the runs, the groundwork and the sparring, have been just as hard as last time.
"You've got to be in tip-top shape for every single fight, if I turned up 50 per cent fit for Mack then I'm probably going to get beat. It's as simple as that. I can't just take my foot off the gas and think "Oh, I've got an easy fight". There's no such thing as an easy fight, so I turn up fully prepared for whoever I'm fighting.
"This is a World title fight so he'll come and try to cause an upset. He can punch a bit, because he's a light heavyweight, so he's going to probably try to catch me out early on and maybe let a barrage of shots off early. So I need to be cute, clever and box behind my jab and just find my feet for the first three or four rounds before I close the distance and close that fighting gap and start letting some artillery go.
"I've made the mistake in the past of not turning up 100 per cent and I nearly came unstuck against Dale Westerman. It was the warm-up fight before I boxed Brian Magee defending my British title and it was a hard night's work, it was tough.
"It was nine rounds of me getting my head punched in until I closed the show in the ninth. But that was supposed to be an easy walk in the park for me but it was probably one of my hardest fights because I wasn't fully prepared, I took him lightly. I'm too professional to not take this guy seriously.
"I've sparred a lot with Tony Bellew - a World champion in waiting in my opinion - done some hard, long runs and some hill-work which is very difficult and my groundwork has stepped up a level and I'm feeling it. It builds up getting harder and harder until fight week when I take my foot off the gas, recover and then explode tomorrow. I'm going to be ready."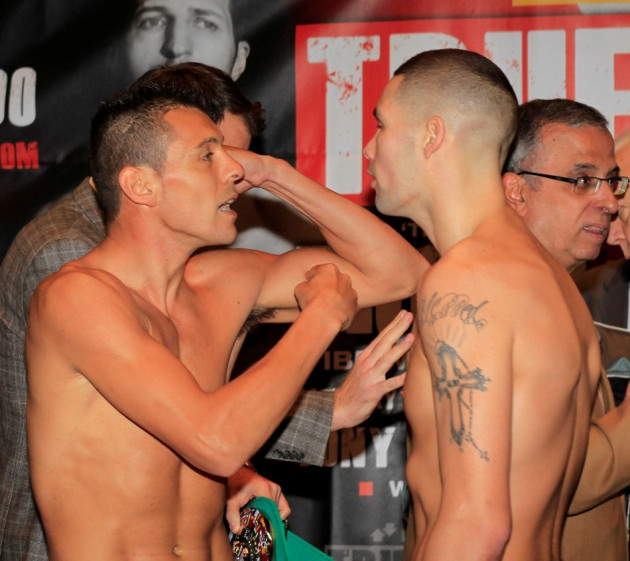 Bellew features on the undercard as he looks to secure a world title opportunity against Chad Dawson when he faces Italian Roberto Bolonti for the vacant WBC Silver light heavyweight title.
The Bomber has warned his Argentine opponent that he will adopt different tactics in Nottingham than those used when he beat Edison Miranda with a ninth round stoppage in September. Bellew also believes Bolonti is not a better fighter than Miranda, despite having a higher ranking.
"I am not going in there to box and move with Roberto Bolonti," he said. "The tactics I use won't be the tactics I employed for the Edison Miranda fight - I would say it will be more like the tactics I employed for the Danny McIntosh fight, and we saw how devastating that knockout was.
"It is about seeking and destroying and really hurting someone and getting a vicious knockout; that is what this fight is about. I believe I am good enough to go in there, stand there and trade. I can go into this fight and have a fight and I am happy to do that. You don't go in with a guy like Edison Miranda and start fighting fights on his terms.
"People weren't happy on the night because I boxed cautiously and used my skills but I can't be having wars every time and I have realised that. I could have upped the pace sooner and stopped him a bit faster but all that said, I still did a job on Edison Miranda and I did exactly what I said I was going to do and that was to punish him and to stop him. Not many people stop him and I have stopped him, so I have to be happy and grateful for that.
"I believe that Roberto Bolonti is not going to be able to stand up to what I have got and I don't believe he is going to be able to take it. Come November 17 all will be revealed but I can guarantee one thing; there will be no moving about, no boxing, it is going to be a seek-and-destroy mission.
"Bolonti is a step up from Edison Miranda according to the rankings, according to the organising bodies he is a big step up. But watching his fights and watching how he fights, do I think he is a step up? Boxing wise, not really, no, because I don't think he poses the same threats as Edison Miranda poses.
"I think he poses different threats but in the same respect he is virtually an undefeated fighter because he only lost very early on in his career. He is unbeaten in over six years so that makes him a very dangerous fighter, and not somebody who is going to want to lose. I cannot take him lightly but at the same time, I don't think he is better than Edison Miranda."