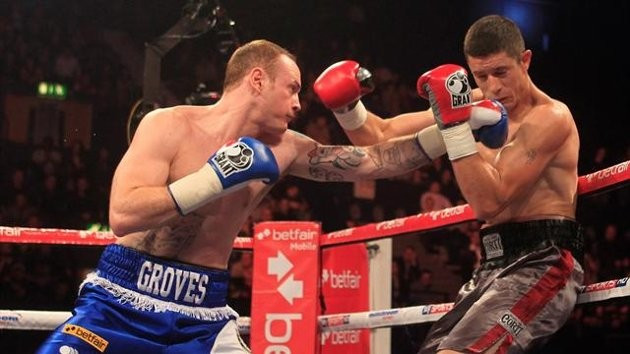 George Groves is on the verge of securing a first world title shot against super-middleweight champion Carl Froch after revealing talks are already underway and that his team are close to completing the deal.
The undefeated Londoner has been made the mandatory challenger for Froch's IBF super-middleweight title but there were suggestions the champion could vacate the title in order to secure a rematch with American Andre Ward.
However, Froch has denied that he would ever vacate and has intimated in recent days that he would be prepared to step in the ring with his domestic rival.
With the champion giving the contest a ringing endorsement, Groves has admitted that he is in talks with promoter Eddie Hearn, who also represents Froch, and is confident that a deal can be made in the coming weeks.
"Once you are mandatory you are guaranteed to fight for a world title. Whether Froch takes the fight; vacates or I go down another route, as I'm ranked with all the other governing bodies as well, my next fight will be for a world title. But I want to fight Carl Froch," Groves exclusively told IBTimes UK.
"Hopefully I'll speak to Eddie Hearn and he can get it signed, sealed and delivered sooner rather than later. I think we are close to doing a deal as that is the fight that I want.
"I bring significant value to a fight with Froch. He is a good fighter but he'll only be in big fights with the right opponent. He's not a standalone fighter.
"I don't think another Kessler fight would happen this year. Andre Ward has gone quiet and to be honest it wouldn't sell that well so the next biggest fight out there is to fight me."
The 25 year old last boxed on the undercard of Froch's epic win over Mikkel Kessler and there was said to be some bad blood between the pair after Groves helped the Dane prepare by taking part in sparring on the eve of the May bout.
With Froch now suggesting he is unprepared to give up his IBF crown it seems likely that Groves will get his opportunity later this year and the Briton believes he is ready to take the title away from the man who is 11 years his senior.
"I boxed on his undercard and showed that I am read," added Groves. "Two Brit's, one a bit long in the tooth, and the other a jumped up young fighter who is giving it large, it makes for a good fight."