Boxing promoter Don King is expected to have a road in Cleveland where he killed a man in 1966 named after him. Cleveland City Council is expected to rename a stretch of Cedar Avenue 'Don King Way' after originally planning to use his name on another street in the city.
In April the council initially bestowed a quarter-mile section of the nearby Shaker Boulevard, where he owns the Call & Post newspaper he saved from bankruptcy in 1998. But now the council has said that they want to name Cedar Avenue between East 36th Street and Stokes Boulevard after the 85-year-old.
In 1966, the 35-year-old King, was known by the nickname 'The Kid' and ran an illegal bookmaking operation on that street. He was convicted that year of the second degree murder of one of his employees, Sam Garrett, who owed him $600 (£453) outside the Manhattan Tap Room.
A report written by the Cleveland Plain Dealer at the time said the police's Green Beret squad saw "The Kid" kick the victim three times in the head. With other witnesses telling police they saw the victim "beaten with a gun".
He was pardoned for the crime in 1983 by then-Ohio Governor Jim Rhodes after letters from civil rights leaders Jesse Jackson and Coretta Scott King, among others, were written in support of King. Cleveland.com reported that in August, councilwomen Mamie Mitchell and Phyllis Cleveland inexplicably introduced legislation that would change the name of the roads.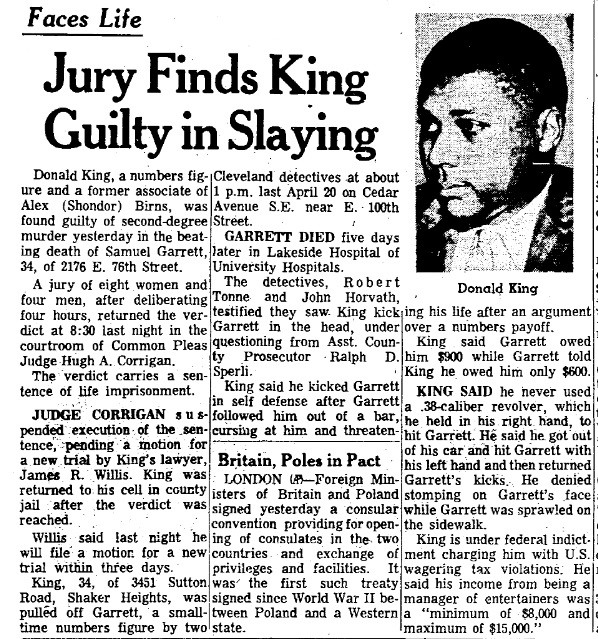 The decision was apparently discussed at a Council Finance Committee meeting on 12 September where no one addressed the reason behind moving the honorary street.
The legendary boxing promoter and Cleveland native was inducted into the Boxing Hall of Fame in 1997 and worked with some of the biggest names in boxing, including the late Muhammad Ali, Mike Tyson and George Foreman. He promoted the iconic 'Rumble in the Jungle' and 'Thriller in Manila' fights involving Ali.
Many of the boxers he represented sued him for fraud and he was also arrested for the killing of another man, Hillary Brown, in 1954. He shot and killed Brown who was attempting to rob one of King's gambling houses, the slaying was ruled as "justifiable homicide".