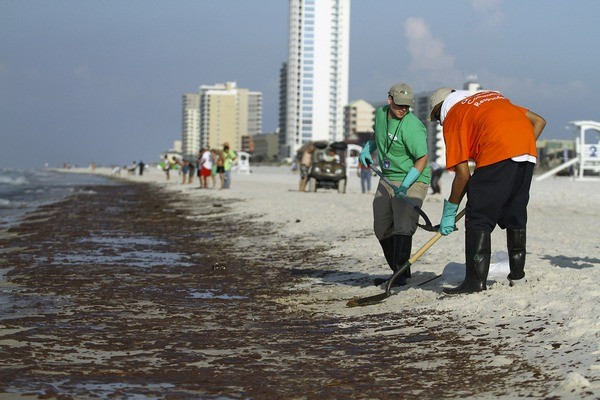 BP are in the process of talking with investment banks Blackstone Group LP, Goldman Sachs Group Inc and Credit Suisse Group AG, and now HSBC as it emerged that a £5bn war chest is being prepared to pay for the oil spill.
The board of BP who met yesterday to discuss the growing bill from the Deepwater Horizon oil crisis have apparently agreed to finance their needs using privately raised funding with some of the biggest investment banks involved.
BP spokesman, Tony Odone said yesterday the company had "no comment on who our advisers are and what their role is." as well as telling shareholders that no specific announcement regarding the dividend would be made via AFP.
The announcement today, comes as the board consider whether to pay a dividend to shareholders and reports suggest that the company will want to pay only a 'scrip' dividend, whilst shareholders keen to retain their investment.
Since the crisis began shares in BP have fallen almost 45 percent are now worth almost half their value - and with no other way to stem the oil until relief wells are drilled, BP must now consider the cost of protecting the seacoast and sealife that have been damaged.
A massive clean-up operation will have to be supported and BP will also face a bill from Obama and the US Government who they will meet on Wednesday. A further package of risers is expected from end of June/early July and operations to skim oil already released into the water have already begun.
BP's shares are currently down 3.31 pct at 350p per share.
£1.1 billion has been the amount BP has paid to stem the oil spill however this figure is expected to rise. To date, BP's current contribution to the damage so far only includes $25 million in grants to Florida, Alabama and Mississippi and $60 million for a project to build barriers off the Louisiana coast.
Legal fees, expected to cost up to several billions is being considered after 51,000 claims have been submitted and more than 26,500 payments have been made, totalling over $62 million.