Brad Pitt managed to shed light relief amid his divorce to Angelina Jolie during, what many media outlets have reported as, a troubling time for the actor.
The World War Z star has made his first appearance on The Late Show With Stephen Colbert during the divorce and enjoyed some laughs while taking part in a sketch alongside the presenter.
In a short teaser clip from Pitt's appearance, set to air on CBS on 17 May, the 53-year-old actor is seen lying on a blanket next to Colbert, 53, gazing up at the stars. The friends then share a bonding moment by calling each other somewhat endearing nicknames such as Brad To The Bone, Stevey Cobeezy, Bradimir Pittin, Bradley Trooper, Pitty Patt and We Ain't Leaving Til' We're Stephen.
The pair then share sentimental musings on life with Pitt asking Colbert: "Hey Stephen; if the universe includes all of existence, what existed before the universe?" to which the host replies: "Probably just a teaser trailer for the universe, with one really good scene that isn't even in the universe once it's released."
Colbert later asks: "Do you think beauty is really only skin deep?" to which Pitt quips: "I don't know... I've never taken my skin off." Referring to President Donald Trump's administration, Colbert then says – while looking at the stars: "I see an endless void no answers, no meaning, no way to construct anything from the swirling chaos." A bemused Pitt asks: "You see all that when you look into space?" prompting the comedian to quip: "No that cloud just kind of looks like Sean Spicer."
Showing off his sense of humour, Pitt later references his popular film franchise Ocean's Eleven when Colbert asks: "Is it possible to describe infinity?" The actor jokes: "Yes, it's one less than the number of Oceans sequels we'll be making."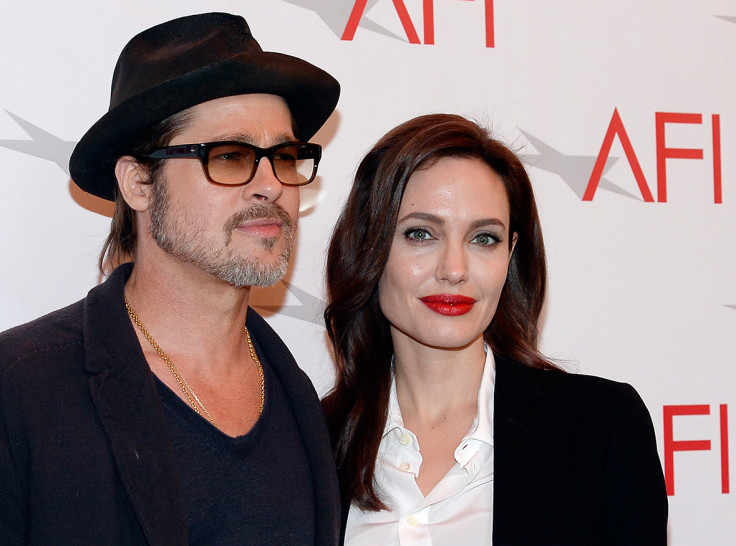 Fans will be pleased to see Pitt enjoying lighter moments after opening up about his divorce from actress Angelina Jolie in a candid interview with GQ. Pitt admitted an alcohol problem contributed to the end of their six-year marriage but later insisted he is in a better place. The movie star told the Associated Press earlier in May: "I'm not suicidal or something. There's still much beauty in the world and a lot of love. And a lot of love to be given. It's all right. It's just life."
Pitt will next star in Netflix black comedy War Machine, which is set to debut on 26 May.
Watch Brad Pitt on The Late Show With Stephen Colbert: