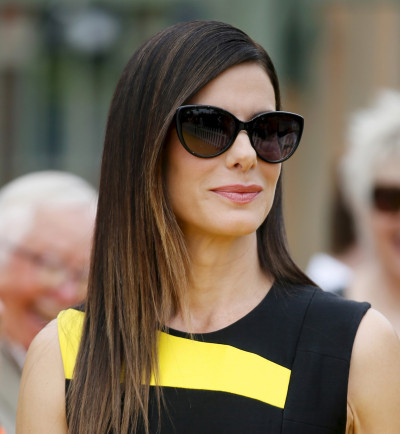 Has Brad Pitt found love again? If a report from Australian gossip site New Idea is to be believed, the Allied star has a new woman in his life – following his split from wife Angelina Jolie in September 2016.
Allegedly the 53-year-old The Big Short actor is "discreetly" dating Sandra Bullock and the two enjoy "secret dates and private phone calls". The so-called couple are purportedly now looking to take their relationship to the "next level". The report also claims that a Hollywood A-list co-star and close friend was responsible for hooking Pitt and Bullock up.
Brad Pitt's Ocean's 11 co-star George Clooney was the power player apparently of the view that the two were made for each other.
"It was George who set Brad up with Sandy [Bullock]," an insider told the publication. "Brad and Sandy were getting along so well at his charity event a couple of years ago, everyone thought they were on fire!"
The source added that Hollywood star players Pitt and Bullock always had a "soft spot" for each other. "They've always moved in the same crowd but the timing has been wrong – either he's been with someone, or she has. But now they're finally free to take their chemistry to the next level."
However, Australia's New Idea is a rather spurious source, having been criticised by ABC's Media Watch – the country's leading media analysis TV show – over the years for inaccurate reporting and sensationalist content.
In 2008, the site was steeped in controversy by mistakenly breaking an embargo in its reveal of UK's Prince Harry serving in Afghanistan with the British Army. Following the editorial faux pas, New Idea ran updates on the embargoed story twice more. It was then forced to pull the piece amid worldwide media furore, saying: "We regret this serious lapse of judgement".
The Brad and Sandy rumours surfaced at a time when another gossip site claims that Pitt and his former wife have started talking directly to each other instead to communicating through their lawyers.
Hollywood Life reported that Pitt was "determined" to have a "respectful relationship" with the Maleficent star as he knows it is best for their six children.
"No matter how much Angie has hurt him, Brad was, and is, determined to mend his relationship with her for the sake of the kids," a source told the celebrity gossip website.