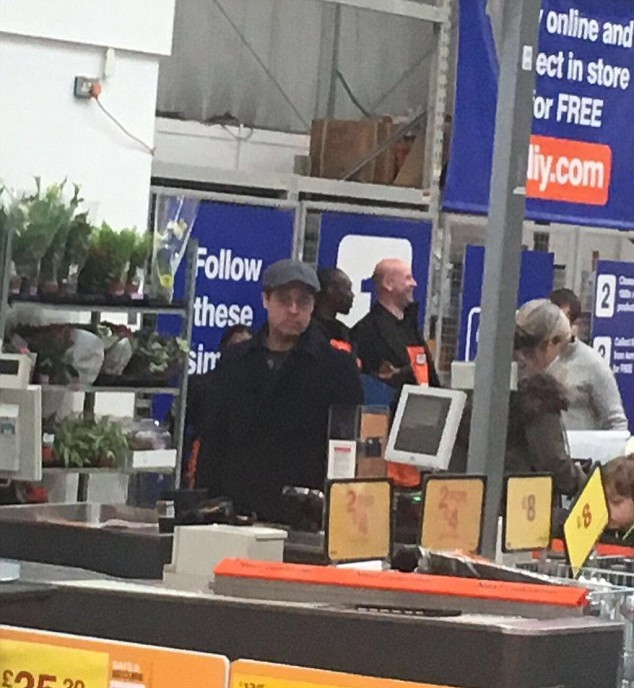 He might well be one of the biggest movie stars in the world, but like a lot of dads, Brad Pitt apparently likes nothing more than doing a spot of DIY on a bank holiday. The Hollywood star was spotted at the west London branch of B&Q on 28 March with two of his children as he perused the gardening section of the home improvements store.
A member of staff managed to take a photo of The Big Short actor wearing a flat cap as he queued up at the till with his purchases. Posting the snap the tweeter, named Harish said: "S***test photo ever, but Brad Pitt was at my work today."
An insider told Mail Online: "He just looked like any other regular dad going about his Bank Holiday Monday. The kids were extremely polite and he kept moving them out of the way so other people could get on with their shopping. You'd never guess it was one of the most famous men in the world."
Pitt, his wife Angelina Jolie and their brood have been spotted in and around London recently, as the couple have set up home in an eight-bedroom, $21,000-a-month (£14,700) rental in Surrey for at least six months. Pitt is filming the sequel to his 2013 American apocalyptic action horror film, World War Z.
Jolie, a Special Envoy of the UN High Commissioner for Refugees, will focus on issues related to the Syrian refugee crisis during her time in the UK. The couple's children are expected to enroll at the Lycée Français Charles de Gaulle in London.
Earlier, the family was spotted on a day out to London's trendy Portobello Road. The A-list couple have six children together: Maddox, 14, Pax, 12, Zahara, 11, Shiloh, nine, and seven-year-old twins Vivienne and Knox.
Brad and Angelina have been plagued by rumours that they are set to divorce amid accusations of insecurity and jealousy. An insider claimed that Jolie is on the brink of an emotional breakdown, however Gossip Cop debunked the reports, refuting suggestions that the actress' health is suffering due to the strain of an impending divorce from Pitt.
Meanwhile, their life in London seems to suggest a picture of a normal happy family.