Rumours are rife that Brad Pitt and Angelina Jolie are headed for divorce, following reports that their relationship is marred by jealousy. Jolie is now said to have fired one of her children's "gorgeous" nannies after she caught her flirting with her heart-throb husband.
According to Radar Online, the nanny developed a close friendship with Pitt. "Angie was happy with the team she had assembled and handpicked to be around her and the kids. Of course lots of people want to work for a famous movie star, but they put them through a very strict filtering process," a source told the gossip website.
"Brad was going in and out of Cambodia as his schedule would allow. He is always well-liked by the staff and friendly with them, but it became obvious the nanny was flirting around him and being a little too friendly," the insider added.
Jolie noticed that the nanny was always hovering around the pool whenever her husband was taking a swim. "Her paranoia grew even further when she saw him fresh out of the shower wrapped in just a towel, getting some juice while the nanny was also in the kitchen with a big smile on her face. That was the final straw for Angie," the source revealed.
"She confronted the nanny and a huge screaming match erupted. Of course, she didn't hesitate to pull the trigger, and the nanny packed her things and was gone faster than you could imagine," the insider added.
The 40-year-old actress is also described as being insanely jealous of actress Marion Cotillard who plays Pitt's love interest in the movie Five Seconds Of Silence. Jolie's insecurity is said to be driving him to divorce her.
"He [Brad Pitt] will be the one to file [for divorce]," an alleged source apparently told InTouch on 9 March, according to HollywoodLife. "He's fed up with her [Angelina Jolie] controlling ways, her obstinateness when it comes to listening to him about her health issues and how she needs to slow down and now her outright jealousy when it comes to other women," the source said.
"She's exactly the kind of sultry European actress that Angie has always wanted to be and she's playing exactly the kind of role Angie's always wanted to play. Adding to the jealousy is the fact that Marion has one thing Angelina hasn't achieved in her acting career: Oscar for Best Actress," the source added.
Romance is rumoured to have blossomed for Jolie and Pitt during the filming of the movie Mr and Mrs Smith in 2005. Pitt left his then wife Jennifer Aniston for his co-star Jolie, but the couple denied that their affair started when the actor was still married to the Friends actress.
With the Fight Club actor now raving about Cotillard, Jolie is said to be afraid that her husband might yet again fall for the charms of his co-star. "The resentment has been eating away at Angelina," the source allegedly said. "She's prone to think that since she was once Brad's co-star and seduced him away from his wife, the same will happen to her".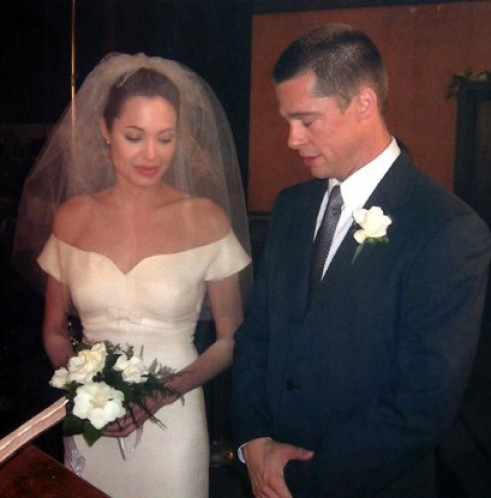 And it's not just pin-up Pitt who has been attracting admirers. Jolie is alleged to have been "flirting nonstop" with a cameraman who has been described as her husband's look-a-like.
The actors recently admitted that they faced challenges in their marriage while working on their movie By The Sea shortly after tying the knot. The actress told the Telegraph that like most marriages they have their fair share of ups and downs. "Brad and I have problems like any other couple. We have days when we drive each other absolutely mad, but the problems in the movie aren't our specific problems."
The A-list couple, who have been together for over 10 years, has been fighting divorce rumors for some time now. However Gossip Cop has debunked the reports saying there is "no truth" to the news report.
"Pitt and Jolie have been together for more than a decade, during which time they've both worked alongside many attractive co-stars," Gossip Cop reported. "The couple's marriage is going strong and this is simply a non-issue," it said.
"This past January, we exclusively debunked [InTouch] magazine's claim that Pitt was 'planning to file divorce papers' by February. Of course, time has proven that story untrue," it said. "Gossip Cop has also busted several false claims about the couple 'living apart' and having the 'fight to end all fights'," it added.
Pitt and Jolie have six children: Maddox Chivan, 14, Pax Thien, 12, Zahara Marley, 11, Vivienne Marcheline, 7, Shiloh Nouvel, 9, and Knox Leon, 7. They got engaged in April 2012 and were formally married in France in August 2014. Neither Pitt nor Jolie have commented on the divorce rumours.