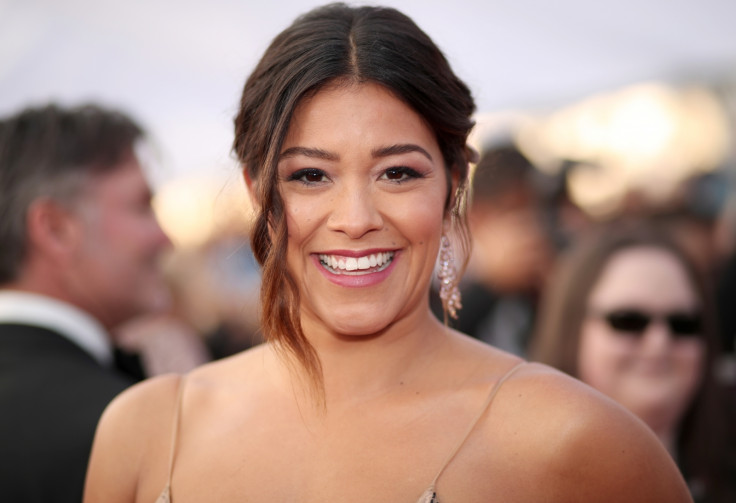 Jane The Virgin star Gina Rodriguez flaunts a slender figure in a multiple cutaway bodysuit on the cover of Shape magazine's October issue and opens up about body image struggles.
Rodriguez, who rose to fame playing Jane Villanueva in the hit The CW show, goes braless and shows off her curves while posing on the beach in a plunging black and grey one-piece, teamed with a long-sleeve crop top.
In another pic for the contents section, she is seen in a grey bodysuit, showing off a bit of her boob, and holds a satin red jacket to complete her look. She posted the photo on Instagram and spoke about her healthy lifestyle changes.
She captioned the post: "It feels incredibly bizarre and unnatural to celebrate during these times. My mind is constantly working to try and see where I can help, contribute and grow. So then maybe it is right to share this cover of @shape magazine because it marks a time in my life where I pushed myself to the max."
The Golden Globe winner went on to reveal why she loved being on the cover of the magazine, and continued: " I love this cover. Not because I feel good and myself and real in it but because it pushed me to a place that wasn't easy and I conquered. All and all, here it is my cover of the October issue of @shape peace and love y'all. "
"Head to shape.com/gina for a peek inside the issue where I talk about body confidence, being an equal-opportunity eater, and how nailing a pull-up has made me mentally stronger," she concluded her post.
In an interview with the magazine, Rodriguez talks about her body struggles. She said: "When I started working on Jane again, there was no time for training, even at night...I couldn't fit into certain clothes, and I was a little curvier. Before, I would have beaten myself up. But my boyfriend gave me some great advice. He said, 'Don't be angry with your body—it changed because your routine shifted.' And that was like a gift."