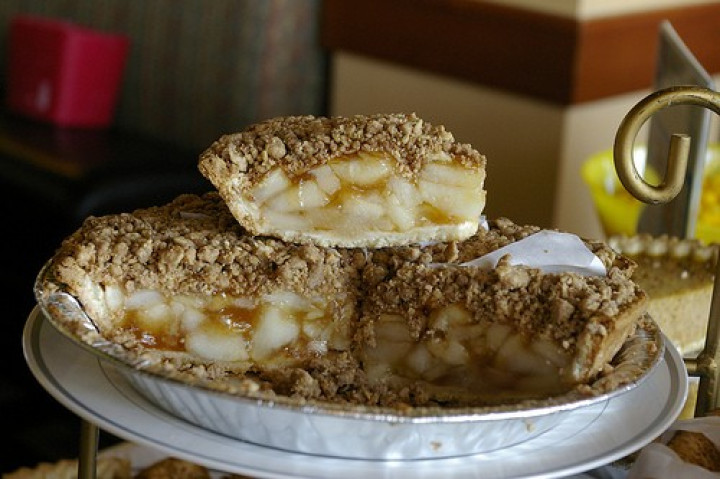 The traditional Bramley apple pie filling can class itself in the same league as Parma ham, Mozzarella cheese and Champagne after it was granted protected status by the European Commission.
The filling, a blend of fresh Bramley apple pieces, sugar and water, has been placed in the Traditional Specialty Guaranteed list, which recognises foods that are produced, processed and prepared using traditional methods and techniques.
The award also helps protect the authenticity and origin of the product from imitation and fraud.
UK Apples & Pears Ltd, which represents three-quarters of commercial apple producers in Britain, had applied for the recognition, arguing that other pie fillings may contain a mix of apple varieties and preservatives.
Its chief executive and chairman of the Bramley Campaign, Adrian Barlow, said he was "delighted" with the award.
"Bramley apple pies are part of British cooking heritage and have been enjoyed for generations, this rubber stamp serves to make sure that apple pie standards will remain high and pudding lovers' enjoyment maximised," he said.
Aside from Bramley apples, sugar and water, Bramley apple puree, cornflour and lemon juice can also be added to make the traditional filling.
At the 1883 National Apple Congress in London, the Bramley apple was acclaimed as the best suited variety for apple pies, and the recipe for making Bramley pie filling has remained unchanged ever since.
The first Bramley tree was planted by a young girl in Southwell, Nottinghamshire, in 1809, according to English Apples and Pears.
The apples are widely grown in the south east and the east Midlands as well as in Northern Ireland.