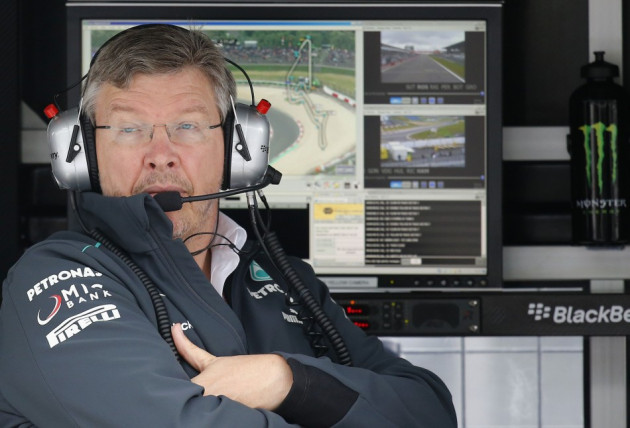 Ross Brawn is expected to leave his position as Mercedes team principal at the end of the current Formula 1 season.
There had been a suggestion that 58-year-old would step down and now sources close to Mercedes have told the BBC that both parties have failed to reach an agreement on a role in which Brawn would be happy to remain at the team.
Both Brawn and Mercedes have refused to comment on the development, but a spokesman for the team did tell the Press Association that no decision on Brawn's future would be revealed until the end of the season.
There is a belief that should Brawn leave after the final race in Brazil then the team would be run by their two executive directors Toto Wolff and Paddy Lowe, along with non-executive chairman Niki Lauda.
Lowe moved from McLaren earlier this year, leading Brawn to state earlier in the season that he could walk away from Mercedes if he felt he was no longer "top dog" at the team.
However, Lauda made it clear after the Japanese GP at Suzuka that the German team's intention was to retain the services of the man who masterminded Michael Schumacher's seven world titles at Benetton and Ferrari.
"There's no decision on how things will be in the long term," said Lauda. "My goal is clearly to retain him, but he will only make the decision at the end of the year."
Increasingly it appears that the decision has now been made with the BBC reporting that he has been linked with a role running Honda's new F1 programme when the Japanese manufacturer returns to the sport in 2015 as engine partner to McLaren.
Brawn has an exceptional record in Formula One, first rising to prominence with Benetton in the 1990's before moving to Ferrari and helping Schumacher win five world titles.
After a short stint with Honda, he then set up his own F1 team and helped Jenson Button win the world title before Mercedes took over in 2009.
Brawn's reputation remains strong among drivers as well with Lewis Hamilton suggesting that he was one of the main reasons he decided to join Mercedes.
"Ross is a great boss and I'm enjoying working alongside him," said Hamilton. "I don't know what his plans are for the future, but of course I'd like him to stay."