Tens of thousands of protesters have taken to the streets of Sao Paulo to demand the removal of President Dilma Rousseff. The Workers' Party leader is currently being considered for impeachment, after being accused of violating budget laws to increase spending during her 2014 re-election campaign.
Up to 100,000 protesters gathered in the financial district on 13 December for the demonstration led by Brazilian anti-government group Vem Pra Rua (Come To The Street).
Leader of the group Michael, said: "The street movements are helping to change this country. We had a senator arrested, a bank president arrested, the owner of a major construction firm and the owners of other big companies arrested."
"This is something that didn't happen in the past in Brazil and the pressure from the streets is helping to change this country and make all this possible, just as the pressure from the streets will help push the impeachment," he added.
President Rousseff denies any wrong doing over the budget, and says she plans to fight impeachment with all tools available to her. Many of the protesters were dressed in yellow and green, the country's national colours, and could be heard chanting "Out Dilma" and "Out PT" (Workers' Party).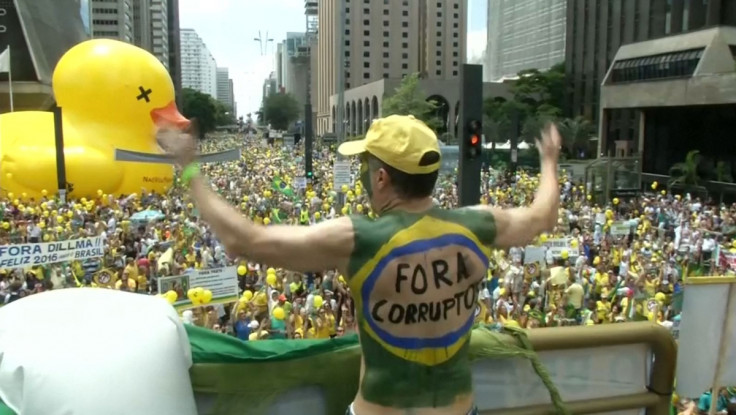 Many were also concerned about the growing recession in the country, as well as the corruption scandal that has engulfed some in the government. Lower House Speaker Eduardo Cunha, a former ally of President Rousseff who turned against her earlier this year, has been accused of taking bribes from state-run oil firm Petrobras.
Protesters held large inflatables depicting Rousseff, as well as former President Luiz Inacio Lula da Silva wearing a prison uniform. Computer engineer, Tony Carneiro, who was part of the protest, said: "It's only through popular pressure that the politicians will begin to change because politicians need us. If they realise that we are not happy, they will do something to change, so it is important to be here."
If the house committee, opened by Cunha on 2 December, decides in favour of impeachment, the process will go to a full vote on the house floor. While it is thought they do not currently have enough votes to push it through, if the impeachment did pass, an 180-day trial would begin.
During the trial, Rousseff would be suspended and replaced by her vice-president Michel Temer.