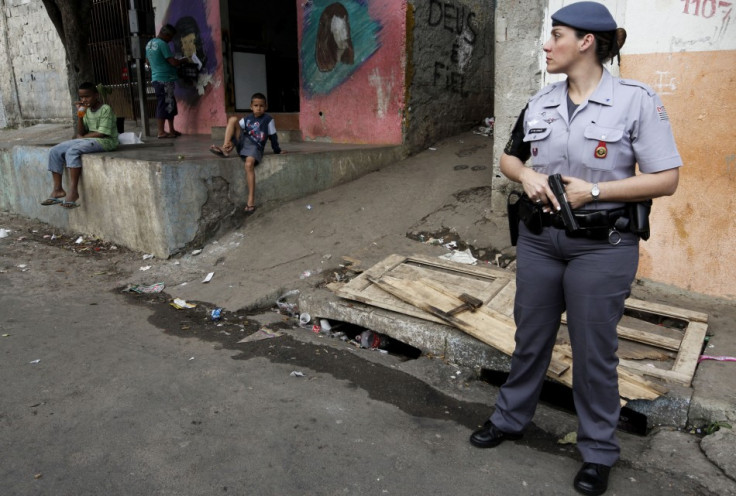 Police officers are believed to have been behind a killing spree in Sao Paulo that left 18 people dead.
Authorities are investigating whether vigilante off-duty police may have carried out the string of murders in a co-ordinated act of revenge.
All the attacks happened within six miles (10km) of each other in the townships of Osasco and Barueri, in the west of the country's biggest city.
CCTV shows masked gunmen arriving in a bar where they lined several men up against a wall and opened fire.
Suspicions were raised after the same vehicles were seen at the sites of multiple shootings over a three-hour period.
Alexandre de Moraes, secretary of public safety for Sao Paulo state, said police responsibility was one line of inquiry.
"We haven't ruled out any hypothesis, and the involvement of police officers in the case must be one of the possibilities under consideration."
Mr Moraes said there was no obvious connection between the 18 who died, only six of whom had a criminal record.
Some had previously been convicted of violent assault and drug dealing, while others had faced charges of domestic abuse.
Evidence from ballistics specialists suggested that at least one 9mm pistol of the type issued to armed forces in Brazil had been used in the attack.
It comes after the deaths of two of the suspected officers colleagues last week.
Police are responsible for more than 2,000 deaths per year in Brazil with off-duty officers rarely facing prosecution when they are suspected of vigilante justice.
The killings have raised concerns of more reprisals.
The South American nation had the highest number of killings of any nation in the world, according to studies by several United Nations agencies which used global data from 2012, the most recent available.