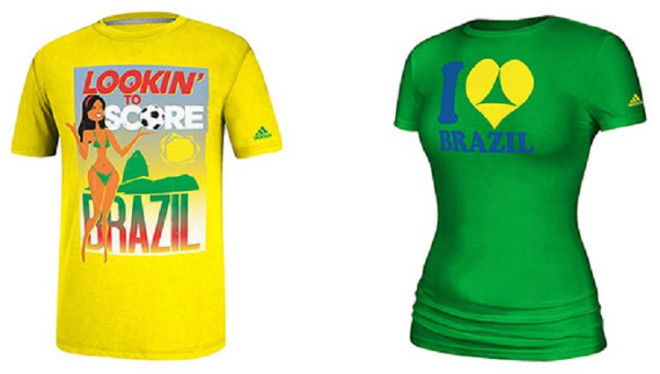 Sports giant Adidas has been asked to stop selling these controversial T-Shirts ahead of the World Cup in Brazil this summer after complaints from Brazilian authorities said they promoted sexual tourism.
One has a bikini-clad woman holding a football with the line: "Looking to Score", while the other has an "I love Brazil" heart shaped logo that resembles the buttocks of a woman wearing a bikini thong.
They touched a nerve in Brazil where people often complain about sexual stereotypes, commonly held by foreigners.
Adidas, the main sponsor of the World Cup on June 12, has agreed to not sell any more of these T-Shirts, but said they were from a limited collection that remained only on sale in the United States.
Brazil's tourism board said it was against the sale of the products that promoted sexual tourism.
In a statement it said: "Embratur strongly repudiates the sale of products that link Brazil's image to sexual appeal."
The Brazilian government is currently doing its best to shed the country's image as a destination for prostitution and was cracking down on sex tourism and the exploitation of children and adolescents during the World Cup.
President Dilma Rousseff tweeted: "Brazil is happy to receive tourists for the World Cup, but it is also ready to combat sex tourism." She also included a hot line number in her tweets to report cases of sexual exploitation.
The World Cup in Rio de Janeiro is expected to attract 600,000 foreign fans.