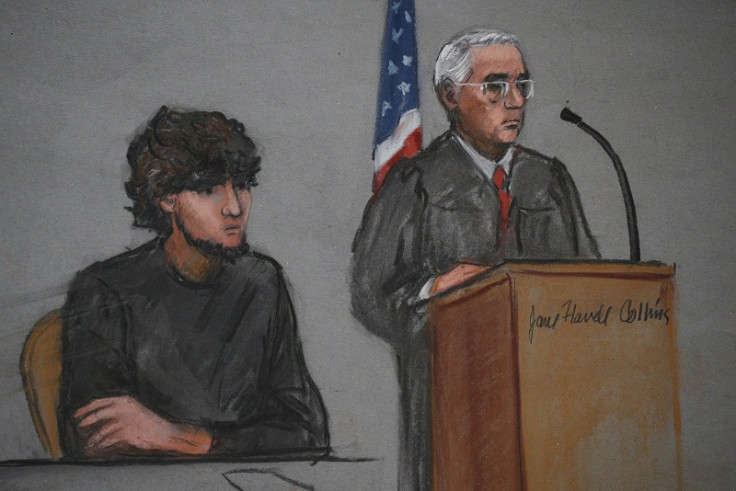 The jury in the Boston Marathon bombing trial of Dzhokhar Tsarnaev reached a verdict after just 12 hours of deliberations.
In verdicts read on 8 April, Tsarnaev was found guilty to all charges. He will head to the second phase of the trial to find out whether he gets life in prison or the death penalty.
Tsarnaev was charged with 30 federal charges, with 17 of those carrying the death penalty. The 21-year-old was accused of killing three people and injuring more than 260 using two pressure-cooker bombs during the 2013 Boston Marathon along with his now-deceased brother Tamerlan. The brothers later allegedly killed MIT police officer Sean Collier when they attempted to evade police.
Tsarnaev pled not guilty to all counts, despite his lawyer Judy Clarke admitting he did commit the attacks during her opening statement.
Jury deliberations began on 7 April after both the prosecution and defence gave their closing arguments. The jury is set to begin the second phase of the federal trial to decide whether Tsarnaev will be sentenced to life in prison or given the death penalty.
Given his guilty verdict on just the first count, Tsarnaev is now eligible to receive the death penalty in the next phase.
Complete breakdown of each count and its verdict is available below.
COUNT ONE: Conspiracy to use a weapon of mass destruction, resulting in death [GUILTY]
COUNT TWO: Use of a weapon of mass destruction (Pressure Cooker Bomb #1) resulting in death; and aiding and abetting [GUILTY]
COUNT THREE: Possession and use of a firearm (Pressure Cooker Bomb #1) during and in relation to a crime of violence, resulting in death; and aiding and abetting [GUILTY]
COUNT FOUR: Use of a weapon of mass destruction (Pressure Cooker Bomb #2) resulting in death; and aiding and abetting [GUILTY]
COUNT FIVE: Possession and use of a firearm (Pressure Cooker Bomb #2) during and in relation to a crime of violence, resulting in death; and aiding and abetting [GUILTY]
COUNT SIX: Conspiracy to bomb a place of public use, resulting in death [GUILTY]
COUNT SEVEN: Bombing of a place of public use (Pressure Cooker Bomb #1), resulting in death; aiding and abetting [GUILTY]
COUNT EIGHT: Possession and use of a firearm (Pressure Cooker Bomb #1) during and in relation to a crime of violence, resulting in death; aiding and abetting [GUILTY]
COUNT NINE: Bombing of a place of public use (Pressure Cooker Bomb #2), resulting in death; aiding and abetting [GUILTY]
COUNT TEN: Possession and use of a firearm (Pressure Cooker Bomb #2) during and in relation to a crime of violence, resulting in death; aiding and abetting [GUILTY]
COUNT ELEVEN: Conspiracy to maliciously destroy property, resulting in death [GUILTY]
COUNT TWELVE: Malicious destruction of property by means of an explosive (Pressure Cooker Bomb #1), resulting in death; aiding and abetting [GUILTY]
COUNT THIRTEEN: Possession and use of a firearm (Pressure Cooker Bomb #1) during and in relation to a crime of violence, resulting in death; aiding and abetting [GUILTY]
COUNT FOURTEEN: Malicious destruction of property by means of an explosive (Pressure Cooker Bomb #2), resulting in death; aiding and abetting [GUILTY]
COUNT FIFTEEN: Possession and use of a firearm (Pressure Cooker Bomb #2) during and in relation to a crime of violence, resulting in death; aiding and abetting [GUILTY]
COUNT SIXTEEN: Possession and use of a firearm (Ruger P95 9mm semiautomatic handgun) during and in relation to a crime of violence, resulting in death; aiding and abetting [GUILTY]
COUNT SEVENTEEN: Possession and use of a firearm (Ruger P95 9mm semiautomatic handgun) during and in relation to a crime of violence, resulting in death; aiding and abetting [GUILTY]
COUNT EIGHTEEN: Possession and use of a firearm (Ruger P95 9mm semiautomatic handgun) during and in relation to a crime of violence, resulting in death; aiding and abetting [GUILTY]
COUNT NINETEEN: Carjacking, resulting in serious bodily injury; aiding and abetting [GUILTY]
COUNT TWENTY: Possession and use of a firearm (Ruger P95 9mm semiautomatic handgun) during and in relation to a crime of violence; aiding and abetting [GUILTY]
COUNT TWENTY-ONE: Interference with commerce by threats and violence; aiding and abetting [GUILTY]
COUNT TWENTY-TWO: Possession and use of a firearm (Ruger P95 9mm semiautomatic handgun) during and in relation to a crime of violence; aiding and abetting [GUILTY]
COUNT TWENTY-THREE: Use of a weapon of mass destruction (Pressure Cooker Bomb #3) on or about April 19, 2013, in the vicinity of Laurel Street and Dexter Avenue in Watertown; aiding and abetting [GUILTY]
COUNT TWENTY-FOUR: Possession and use of a firearm (Ruger P95 9mm semiautomatic handgun and Pressure Cooker Bomb #3) during and in relation to a crime of violence; aiding and abetting [GUILTY]
COUNT TWENTY-FIVE: Use of a weapon of mass destruction (Pipe Bomb #1) on or about April 19, 2013, in the vicinity of Laurel Street and Dexter Avenue in Watertown; aiding and abetting [GUILTY]
COUNT TWENTY-SIX: Possession and use of a firearm (Ruger P95 9mm semiautomatic handgun and Pipe Bomb #1) during and in relation to a crime of violence; aiding and abetting [GUILTY]
COUNT TWENTY-SEVEN: Use of a weapon of mass destruction (Pipe Bomb #2) on or about April 19, 2013, in the vicinity of Laurel Street and Dexter Avenue in Watertown; aiding and abetting [GUILTY]
COUNT TWENTY-EIGHT: Possession and use of a firearm (Ruger P95 9mm semiautomatic handgun and Pipe Bomb #2) during and in relation to a crime of violence; aiding and abetting [GUILTY]
COUNTY TWENTY-NINE: Use of a weapon of mass destruction (Pipe Bomb #3) on or about April 19, 2013, in the vicinity of Laurel Street and Dexter Avenue in Watertown; aiding and abetting [GUILTY]
COUNT THIRTY: Possession and use of a firearm (Ruger P95 9mm semiautomatic handgun and Pipe Bomb #3) during and in relation to a crime of violence; aiding and abetting [GUILTY]