The strategically vital military airbase at Tabqa, in Syria's Raqqa province, has been seized by Isis militants, the BBC reports.
The scene of fierce fighting between government forces and jihadists in recent days, the base has been used to launch a series of airstrikes against Isis commanders in the northern Syria province, where the rebels have their stronghold in Raqqa city.
Twitter accounts, thought to belong to Islamic State militants, have posted a number of images said to be taken inside the Tabqa airbase, including dead soldiers being beheaded.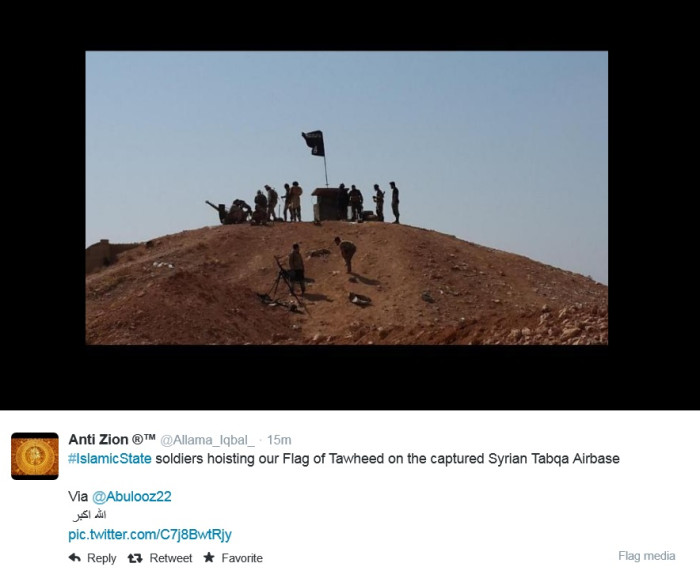 The human rights organisation Syrian Observatory for Human Rights (SOHR) reports that Islamic State militants are celebrating in the city of al-Raqqa, after "violent clashes" between Syrian and Islamic State forces in the airbase.
The SOHR says that Islamic State fights stormed "the wall of the Military Airport of al Tabaqa and took control over wide areas of the airbase. Mutual bombardment inside the airbase has occurred while the warplanes attacked the clashes' area and IS gatherings, initial information reported withdrawal some soldiers from the regime army towards of Athraya Area."
The organisation also reported that Syrian forces carried out six air strikes on Islamic State forces during the assault.
However, on Twitter journalist Elijah J Magnier has reported that the Syrian forces fled from the airbase, leaving it to the Islamic State.
Magnier, an international correspondent for the Jordanian newspaper Al Rai, describes himself as having a "very close" relationship with the Islamic State.