British special forces are hunting the killer of US journalist James Foley using an array of sophisticated equipment that could lead to the capture of Islamist extremists within days.
A "significant force" of elite troops from the SAS have been deployed in northern Iraq and are coordinating hi-tech operations in the region, the Daily Mail reported.
The Special Reconnaissance Regiment (SRR) are also conducting operations in Syria using drones that are able to fly for 24 hours at an altitude 18,000ft. This allows them to survey hundreds of miles of territory occupied by Isis fighters, including Raqqa, a city where several Western hostages are believed to have been held.
SAS soldiers and signallers joined Iraqi and Kurdish units fighting Isis in Iraq, and have separated into four-man teams in an effort to capture and identify "Jihadi John" – the masked man seen in the video which depicts Foley's execution.
Once troops have captured a British jihadi suspect, samples will be taken from his blood and DNA and checked against UK medical records. Photographs will also be taken of the iris for identification purposes, as this part of the eye is unique from person to person.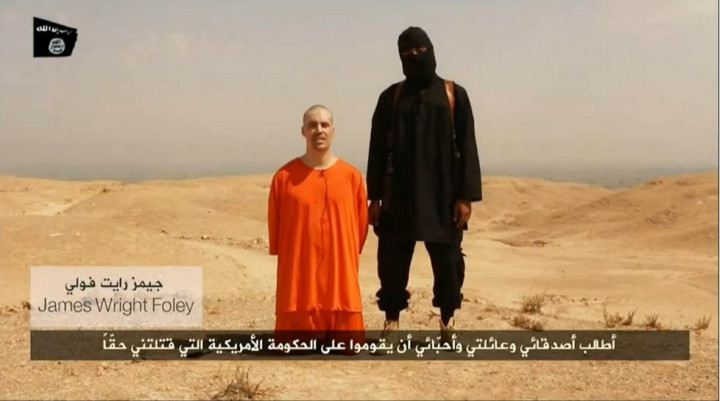 A key suspect is 23 year-old Abdel-Majed Abdel Bary, from Maida Vale in west London, who recently appeared on social media holding a severed head.
An SAS source told the Daily Mail: "It is possible to identify British jihadis on the battlefield by intercepting their radio messages. When they're captured by the Iraqis or Kurds, we'll take a close interest in their questioning.
"Gathering information, such as their blood group and DNA, as well as voice recordings in either Arabic or English, will help us zero in on Jihadi John because it can be compared with existing data."
This data is sent via a portable satellite manned by a soldier from 264 (SAS) Signal Squadron, which then beams it to a spy plane, such as the Rivet Joint aircraft flying overhead.
A team inside a Rivet Joint plane processes the data and then sends it back to GCHQ, the government's secret communications headquarters, where it is analysed and matched against records of British militants believed to be fighting in Syria and Iraq.
So-called "feedback information" is then sent to SAS teams.
GCHQ's database is believed to include recordings of thousands of voices extracted from phone and radio intercepts.
Writing in the Sunday Times, UK foreign secretary Philip Hammond warned that militants from Isis, also known as the Islamic State, are turning huge parts of Iraq and Syria into strongholds from where they can wage terror campaigns against Western nations, including the UK.