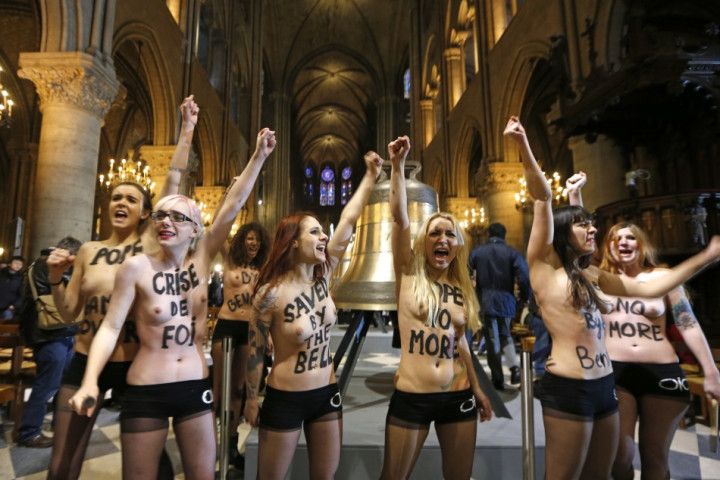 Women stripped to their knickers and bared their breasts in Notre Dame Cathedral in a shock display in France.
Nine members of Ukrainian feminist group Femen stunned bystanders at the holy site with their response to news that Pope Benedict XVI was to quit as head of the Catholic Church.
The women, aged below 40, displayed messages scrawled in pen on to their cleavages and upper torso. Among the statements was "pope no more," "saved by the bell," and "bye bye Benedict."
Then they surrounded an enormous bell on display in the 850-year-old church in Paris, and bashed it with a hammer repeatedly to celebrate the Pontiff's announcement, on Monday.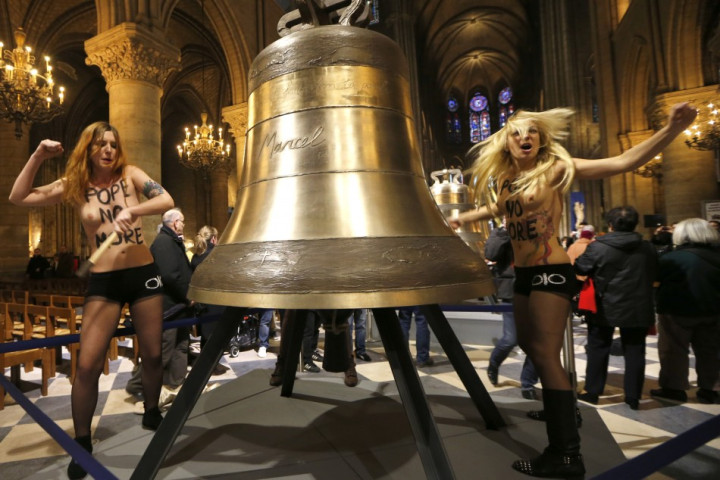 Stunned bystanders in the cathedral, in France, whipped out their cameras and filmed the scene.
Passers-by were told by the group that they were also marching for gay marriage - which could be legalised in France under legislation being voted on this week.
The militant group was hauled off the site by security staff.
Femen's display in Notere Dame was just the latest in a high-profile campaign against the Catholic Church by the group.
Last month, the group ambushed Pope Benedict in St Peter's Square in the Vatican City, in a protest for gay rights. They told him to "shut up" during an address, before being dragged from the scene by guards.