A group of youths on a Manchester tram was filmed shouted racist abuse at another passenger, before flinging beer at him. One of the young men, who is pictured wearing a hat and a coat, repeatedly shouts at the passenger to get off the tram, telling him "get back to Africa" before approaching him and drenching him in beer.
Other passengers shouted at the perpetrator, telling him he was "a disgrace to England", while the victim looked visibly shaken as the incident came to an end.
The man who was targeted asked the group of three youths how old they were as they approached him on the crowded tram, as they ordered him to get off the tram.
"What are you, 18, 19? I've been here longer than you have," the man said. "You are extremely ignorant and not very intelligent," he told them.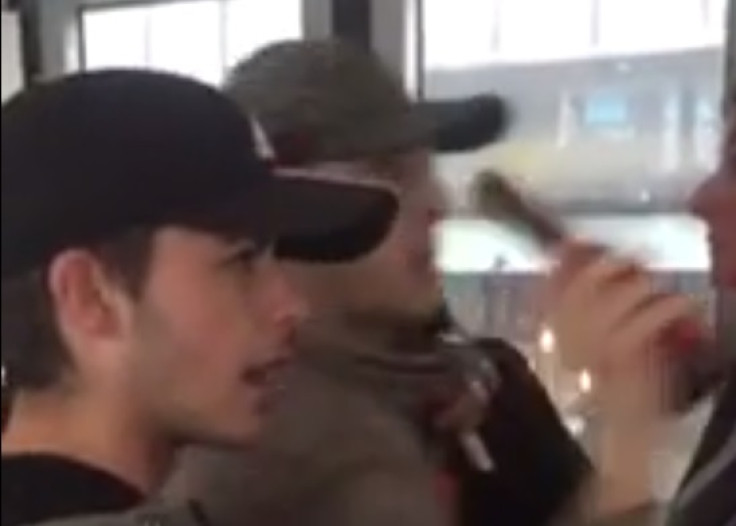 Chief Inspector Gareth Parkin of Greater Manchester Police's City of Manchester Team, said in a statement: "We are aware of a video of a hate incident that has surfaced online this morning.
"This is a disgusting display of abuse which quite frankly has no place in society.
"All hate incidents are treated with the upmost severity and this behaviour will not be tolerated in Greater Manchester.
"I'm strongly urging anyone who recognises the men in the video to come forward and help us with our investigation.
"We will continue to monitor this situation and would strongly encourage anyone who thinks they may have experienced or witnessed hate crime to report it by calling the police on 101, contacting Crimestoppers, anonymously, on 0800 555 111, or via the True Vision website at:www.report-it.org.uk."
An increase in racist and xenophobic hate crime has been reported post Brexit vote, with London mayor Sadiq Khan urging calm as Polish people were targeted in several different incidences over the weekend.