Donald Trump is running for US president but he may want to stay out of UK politics. The leading Republican candidate who was visiting his golf course in Scotland the morning after the Brexit vote managed to offend scores of Scots by congratulating them on "taking their country back".
He voiced his support in a tweet to his 9.4 million followers which read: "Just arrived in Scotland. Place is going wild over the vote. They took their country back, just like we will take America back. No games!"
Addressing the crowd later he said: "You're taking your country back. You're gonna let people you want into your country, and people you don't want or people that you don't think are going to be appropriate for your country, you're not gonna have to take."
One slight problem: Scotland overwhelmingly voted to remain in the EU.
As a result of his blunder, American TV host Samantha Bee dedicated a whole segment of her Full Frontal late show to making fun of Trump. She drafted in "real Scotsman" Tennant to read some replies from the Scottish community.
The string of insults included "Scotland voted to stay, you numpty", "Scotland voted overwhelmingly to stay in Europe, you toupéd f*** trumpet" and "They voted Remain and they hate your guts, you ludicrous tangerine ballbag". In a true testament to Tennant's acting skills he managed to read them all straight-faced.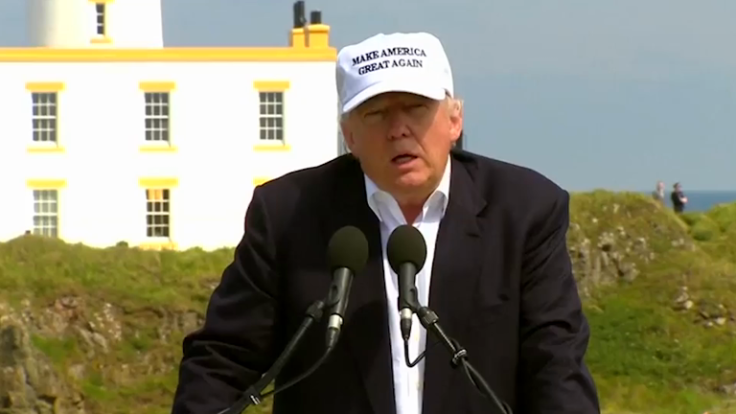 Elsewhere, Bee discussed the Brexit further by making fun of "insufferable frog-faced w**ker" Nigel Farage, the Ukip leader, and encouraging US viewers to make sure they vote in the presidential elections in November.
Bee said: "While millions of Brits were frantically Googling: 'How do you spell EU?' or just weeping uncontrollably, Nigel Farage – leader of the right-wing UK Independence Party, champion of the anti-Europe movement, and insufferable frog-faced w**ker – was sharing his Brexit jubilation on the Good Morning Britain programme by walking back promises about healthcare and magic beans."