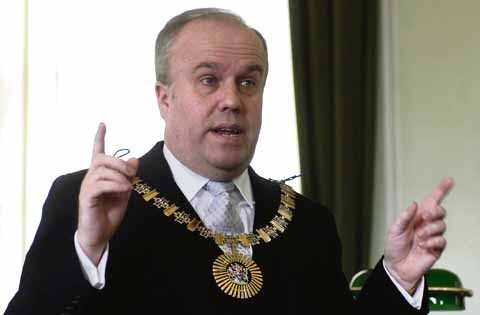 A former close aide of London Mayor Boris Johnson has been arrested on suspicion of assault.
Brian Coleman allegedly lost his temper when he spot somebody filming him parking his car, in North Finchley, Barnet, in north London.
The woman holding the camera was none other than one of the Tory councillor's arch critics.
Helen Michael whipped her camera out to record what she claimed was a parking violation by Coleman.
The pair had clashed before over parking changes rolled out by Coleman, which opponents claimed threatened local trade.
Café owner Michael led a noisy campaign to halt the plans in Barnet.
She said: "I saw him pull up in the loading bay which I though was outrageous considering he was involved in bringing in parking restrictions here.
"I got my phone and started filming and he said you can't film me. Give me the camera.
"He then tried to grab my phone. An undercover policeman who was in the road ran to help me.
"He totally lost it and was shouting and screaming. Coleman then jumped into his car and drove off. I didn't want him to get away so I jumped in the car with him.
"He then drove off with both doors open and then hit a truck. At that point I jumped out and he sped off," the Evening Standard reported.
Coleman was reportedly left with scratches by the incident.
A Scotland Yard spokesman said: "A 51-year-old was arrested on Thursday in connection with an alleged common assault.
"He was taken to a central London police station and was subsequently bailed to return to a north London police station in late October pending further enquiries."
Coleman was booted out of City Hall by voters at the London elections in May, after 12 years.
He used to head the London fire and emergency planning committee there.
Coleman has made waves since returning to Town Hall politics.
He sparked uproar at a recent council meeting by branding two hecklers "hags."
Despite being invited to apologise for the remarks by the Mayor of Barnet, Coleman refused.
The incident was captured on video and triggered a complaint to Barnet council.
Conservative Coleman has also faced two disciplinary charges for alleged misdemeanours this year.