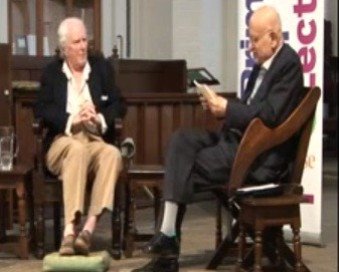 Brian Sewell has surprised fans with the claim that he had an affair with the apparently heterosexual editor of Tatler, Mark Boxer.
In his memoirs, Outsider II, which is due for release in November, the Evening Standard art critic claims he had a fling with Boxer in 1963.
According to the Standard, Sewell wrote of their encounter: "Tall and wonderfully beautiful, he did not rebuff the pass I made and amused dalliance may be the proper description for what followed, for he was of that not uncommon category of heterosexual men for whom experience with another man is, on his part, merely sexual, not homosexual, particularly if he does little more than let it happen.
"With his announcement that he was married and 'this must stop', stop it did.
"Even among the hundreds of sexual encounters that I had experienced, I had not forgotten ours."
It is reported that Boxer, who was editor of the Sunday Times magazine at the time, was married to Lady Arabella Stewart at the time of the affair. He died in 1988 from a brain tumour at the age of 57.
A number of people have said they are surprised at this liaison. Jilly Cooper is quoted as saying: "How riveting! Naughty Brian! All I can say is lucky, lucky Mark Boxer. Brian is a wonderful man and I simply adore him."
Speaking about his first book of memoirs, Outsider: Always Almost: Never Quite, Sewell told the Guardian that he knew he was gay from a very young age. He said: "It did seem to me that if I was going to write the damn book, I should be absolutely, scrupulously honest.
"There are still hundreds and hundreds of young homosexuals saying: 'I can't tell my mother.' And I thought that talking about my own homosexuality, how it began and how it developed, might be useful to somebody.
"It's been there all the time; you know you're queer at a very early age. I think I knew it when I was six. There was just a sort of awareness growing quite swiftly into a conviction."