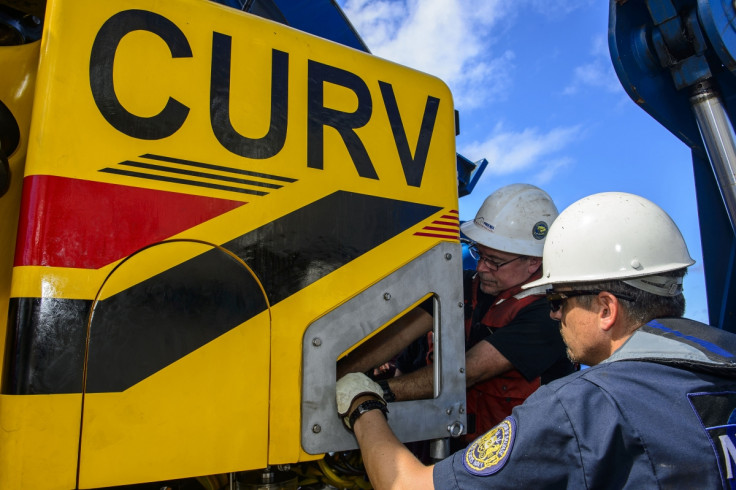 Investigators searching for missing cargo ship the El Faro have discovered the bridge deck of a cargo ship believed to be that of the sunken vessel. The El Faro sank off the coast of the Bahamas on 1 October in the middle of Hurricane Joaquin with 33 crew members on board. However, investigators continue to search for the ship's "black box" that was attached to the bridge deck.
The ship's recorder should contain important information about what truly happened to ship in its last trip, the National Transportation Safety Board said. According to the Daily Mail, part of a refrigeration unit that was discovered at the edge of a beach on Great Exuma island was also confirmed to be part of the El Faro.
Late in October the NTSB announced that a US Navy search team located the wreckage believed to be that of the El Faro at about 15,000 feet of water. The agency said that preliminary sonar imaging of the ship revealed it appeared to be intact. Search operations, which ramped up earlier in November were expected to take up to 15 days but could be extended depending on weather and other conditions.
The 790-foot cargo ship disappeared in the middle of its voyage from Jacksonville, Florida to San Juan, Puerto Rico when it last made contact. The vessel had a crew comprising 28 Americans and five Polish nationals between the ages of 23 and 54, it was reported.
Before it disappeared, the ship Captain Michael Davidson called the vessel's owner by satellite phone to report "a marine emergency". The captain said that the cargo ship had "a hull breach," a hatch had blown open and that the 40-year-old ship's holds was taking on water. The NTSB reported Davidson had also reported the ship had lost its main propulsion union and could not be restarted by its engineers.
An initial search for the sunken ship by the US Coast Guard resulted in the discovery of debris and a body in a survival suit. The El Faro, along with its sister ship, were set to be replaced by two new ships, NBC News reported. The cargo ship was being retrofitted for service between the West Coast and Alaska, according to the ship's owner.