The Foreign Office says it is investigating circumstances surrounding the death of Abdullah Deghayes, an 18-year-old from Saltdean, near Brighton, in Syria. Deghayes, the nephew of former Guantanamo detainee Omar Deghayes, had apparently told family he was going to Libya. His father Abubaker Deghayes says he only found out about his death from Facebook:
"At the moment we don't have any details. We found out on Facebook. I hope he died for a noble cause, trying to help Syria, I need to find out. I might go and travel and see. He was a youngster who didn't communicate a lot. With parents, once they grow, they don't tell you much about their lives."
A Sussex Police spokesman said:
"On Monday 14 April we received information that an 18-year-old Brighton man had been killed in Syria in recent weeks. The circumstances of this reported death remain unclear and we are in contact with the family."
The Foreign Office has advised all Britons currenly in Syria to leave immediately. It is thought around 400 have gone to fight in the civil war since it began in 2011, most of them with Islamist groups fighting the forces of President Assad. Around 20 Britons are believed to have died in the conflict, some of them trained in camps by former Dutch soldier turned Jihadist Yilmaz.
A Foreign Office spokesman said: "We are aware of the death of a British national and are urgently looking into it."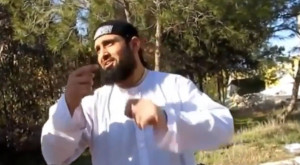 The issue of young people from the UK travelling to Syria to fight as so-called "EasyJet Jihadis" has caused increasing concern in recent months. Speaking after the death of Abdul Waheed Majeed, a 41-year-old from Martyr's Avenue, Crawley, UK immigration minister James Brokenshire said:
"A growing proportion of the security services' work is linked to Syria in some way. This is a big problem that the security services and the police are actively focused on."
The uncle of Abdullah Deghayes is Omar Deghayes, who was detained at Guantanamo Bay from 2002 and 2007 after being arrested in Pakistan. He was released without charge.
Deghayes is believed to have attended Longhill High School in Rottingdean. The youth's Facebook page contains tributes from his former classmates. On the same profile Deghayes says he works for Adidas and, poignantly, was due to begin studying at the University of Brighton in 2015.