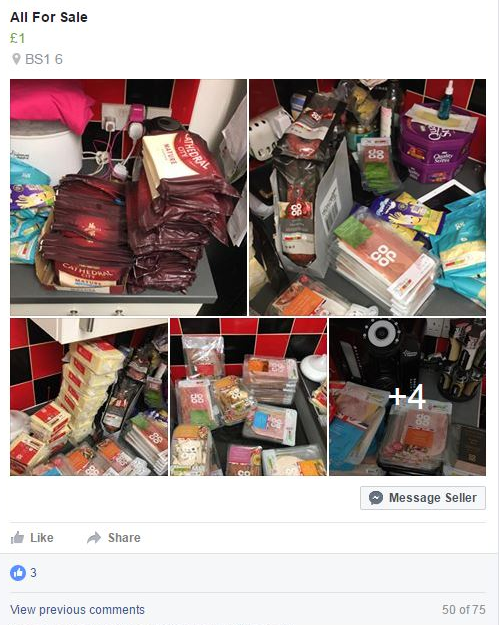 A Bristol man has been arrested for stealing blocks of cheese after police tracked him down selling the ill-gotten foodstuffs – on Facebook.
The unnamed man is alleged to have been caught selling a range of groceries on a local "For Sale" webpage. Pictures show stacks of Cathedral City Cheddar, Quality Street chocolates and processed meats being offered to punters at discounted prices.
Many of the goods are Co-operative own brand and it is believed that the alleged offender pinched them from a Bristol branch of the supermarket chain. He then peddled them on the "For sale in the hartcliffe/withywood/bedminster areas" Facebook page for as little as £1 ($1.25) an item.
The man is reported to have been apprehended by police in Bristol, south-west England, according to the Bristol Post. The advert for the goods lists a BS1 postcode, which covers Bristol City Centre and Redcliffe.
Unsuspecting bargain hunters had been eager to purchase the tasty stolen snacks – there were a reported 75 comments underneath the advert. However, some buyers were left out of pocket when police swooped in to shut down the operation.
One user wrote: "It's all stolen. My boyfriend went to collect 10 ten minutes ago and police arrived. Can't even get my money back!"
Another comment said that the man had told police that he found the foods in a bin. This has not been confirmed by police sources.
A spokesman for Avon and Somerset Police said: "A 36-year-old man has been arrested on suspicion of theft in the Knowle area of Bristol. The arrest is in relation to suspected stolen items advertised on social media."
There are 13,803 members of the 'For sale in the hartcliffe/withywood/bedminster areas' Facebook group and 21,712 items listed for sale.