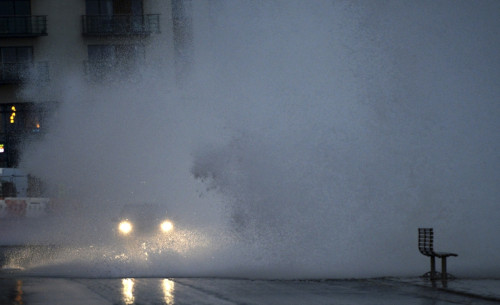 The Met Office has issued a severe weather warning for the UK ahead of heavy rain and wind in the early hours of Monday, as efforts continue to clear up damage caused by the Christmas storms.
The south-west of England, Wales and Scotland will be the worst affected - with gusts of 80mph set to batter the regions.
Heavy rain is expected to spread across the south-west of England and south Wales from Sunday afternoon into Monday morning, the Met Office said.
Winds of 60-70mph are expected to hit Wales and parts of south west and southern England, while exposed areas such as the Isles of Scilly, west Cornwall and west Wales could see gales of up to 80mph.
Scotland is also braced for more heavy rain overnight on Sunday into Monday morning, with 20-30mm of rainfall predicted and much as 50-60mm over high ground.
Prime Minister David Cameron is calling on councils to have plans in place for New Year flooding as thousands of homes were still without power following Christmas storms that swept across Britain and Ireland.
Cameron, who was confronted by an angry flood victim in Yalding, Kent, on Friday, one of hundreds of residents still without electricity, wrote on Twitter: "I've asked the Dept for Communities & Local Govt to ensure councils have robust plans in case of bad weather and flooding over New Year."
A Downing Street spokesman outlined action to be taken after ministers held a Cabinet Office Briefing (COBRA) via conference call on Saturday.
Energy Minister Ed Davey is pushing UK Power Networks - which owns electricity lines in London and the south east - to get the power back on, the spokesman said.
Meanwhile UK Power Networks said it would raise its standard amount of compensation from £27 to £75 to those affected by long-term cuts "as a gesture of goodwill".
Watch the Christmas Eve flooding in Kent on YouTube, below: